Weekend's Highlights Reel. Goals By Jeleń, Grosicki and Robak.
February 14th, 2011 | by: tomasz |

Comments(16)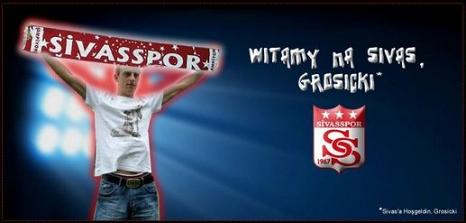 I'm still waiting for the start of the Ekstraklasa (two weeks left), but it doesn't mean that there is nothing to watch in Europe from a Polish fan's perspective. Some of our players managed to grab the headlines at the weekend.
Robert Lewandowski and Łukasz Piszczek started the game for Dortmund (Kuba Błaszczykowski was out with an injury). Borussia only managed a draw in a game against Kaiserslautern and their advantage over Bayer Leverkusen was reduced to 10 points. They are still favourites to win the title, but their form is not as incredible as it was before the winter break. Dormund definitely needs something more from Lewy, who plays well, but without this additional spark of extraordinary. Łukasz Piszczek remains as reliable as ever this season (his cross resulted in Bender's goal for Borussia).
Sławomir Peszko earned his third assist in the Bundesliga and is getting better reviews than anyone probably expected after his move. The comeback to the national team seems imminent. One thing that Peszko can't eliminate is being yellow carded too often (he got his third yellow card against Mainz). Adam Matuszczyk played for 45 minutes.
Ireneusz Jeleń got his all important first post injury goal, though reportedly he was still far less impressive than before the fitness problems. Auxerre lost another game and will have to fight against relegation this season. Dariusz Dudka played for 90 minutes and Ludovic Obraniak entered the field in the 89th minute of Lille's match against Toulouse.
Kamil Grosicki is slowly, but steadily becoming a star in the Turkish league. The local experts already claim that he's the best player in the Sivasspor team. A great goal in the recent game against Trabzonspor is another proof of that. A move to a better club can happen earlier than anyone expected, especially that Sivasspor are on the straight way to relegation. The same applies to Konyaspor, where Marcin Robak currently earns his living. The former Widzew striker scored his first two goals in the Turkish league at the weekend. Arkadiusz Głowacki and Piotr Brożek (debut game) both played 90 minutes for Trabzonspor, but Paweł Brożek spent the whole game on the bench. So far, he's had huge problems to earn himself more playing time.
Przemysław Tytoń saved a last minute penalty and a point for his club Roda Kerkrade in the game against Ajax.
Artur Boruc was less lucky as he let in two goals as well against Palermo (without being the hero of the day). Kamil Glik played another full game for Bari and Błażej Augustyn spent another full game on the bench.
Radosław Majewski was an anti hero in Nottingham's top match against QPR as he received a red card for a two footed tackle in the 23rd minute of the game. His club managed to save a draw nevertheless. Despite of last week's heavy criticism, Tomasz Cywka got a chance to play 45 minutes in the latest Derby County game.
Finally, the long forgotten Sebastian Tyrała scored a great free kick goal in the 2nd Bundesliga.
Subscribe

Poland World Cup Blog RSS Feed

Share
Comments are closed