Transfer Report: Summer Of 2011. The Ekstraklasa Transfer Record Broken.
June 20th, 2011 | by: tomasz |

Comments(42)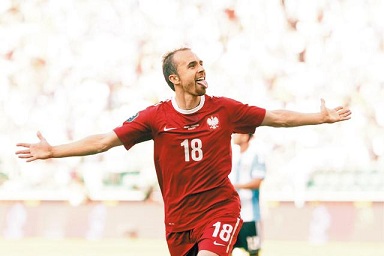 Polonia Warsaw's owner Józef Wojciechowski makes sure that the Polish football is interesting. After multiple transfers and announcements that he's going to fight for the championship title next season, he decided to sell his top player Adrian Mierzejewski to Trabzonspor. JW probably wouldn't do that if it wasn't for the record transfer fee offered by the Turkish club (5,3M). So far Wojciechowski has been breaking records in inconsequence, this time he got his place in the history of Polish football for more positive reasons. Mierzejewski has to be the biggest surprise transfer fee ever in Polish football. Other bif moves include Mateusz Klich's transfer to Wolfsburg and Michał Żewłakow's return to the Polish league.
Completed transfers:
Adrian Mierzejewski (Polonia Warsaw-Trabzonspor): a year ago we were excited by Robert Lewandowski's move to Dortmund and the huge transfer fee that followed. Lewy's departure was analyzed for at least two or three months and came as no surprise to anyone interested in the Polish football. Adrian Mierzejewski, though he became the Ekstraklasa's MVP, didn't seem to have a potential for a big money move. There weren't that many transfer rumours surrounding him (apart from Eintracht Frankfurt in the winter) and he wasn't considered as big a star in Poland as previously Lewandowski. Most importantly, Mierzejewski was JW's and Polonia fans favourite, he was supposed to lead his team to the championship title next year. Since JW isn't interested in money that much, and I thought Mierzejewski's worth was 3M at best, it seemed impossible that Adrian would leave Poland this transfer window. Impossible for everybody except for the Turkich league runners up Trabzonspor. They ended the negotiations with JW by putting 5,3M on the table, the highest fee ever for an Ekstraklasa player. The idea of breaking a transfer record in Polish football had to do woners for JW's ego. More important, however, was the fact that Mierzejewski himself asked for the transfer for the first time during his relationship with JW. It's no surprise; at Trabzonspor he'll take part in European competition (maybe even CL), play in the stronger league and have three compatriots to help him assimilate. Moreover, the fact that the Turkish club decided to pay so much means that they want to make Adrian one of the leaders of the team (Trabzon also bought Didier Zokora this summer). The transfer itself was carefully carried out, the Polonia winger was scouted several times and was watched live by Trabzon's coach Senol Gunes in the match against France. Mierzejewski's task will be to play behind the strikers as the playmaker. If he succeeds in Turkey he'll strengthen his position in the national team as well. This is the transfer that the Polish national team can only profit from.
Here's what Trabzonspor is paying for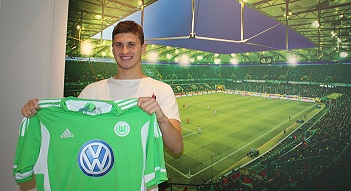 Mateusz Klich (Cracovia-Vfl Wolfsburg): this transfer is a huge surprise for me, mainly because Klich has only showed his potential in 2011. He was always considered a big talent, started playing at Cracovia as an 18 year old, but so far lacked the necessary spark to be considered the next big thing. It all changed this year when Klich became the true leader of his team and handled the pressure to help Cracovia avoid relegation. He was also called up by Franz Smuda for the first time and even managed to earn his debut in the national team. Klich is still a very young player (21 years) and probably Wolfsburg expect him to further develop. The move is extremely risky, mainly because it will be very hard for Klich to become a first team regular during his first year in the Bundesliga. However, if he manages to play regularly in Germany he'll naturally win himself a place in the Euro 2012 squad as the backup playmaker. A brave decision from the youngster, but a one worth taking.
Michał Żewłakow (Ankaragucu-Legia Warsaw): Legia decided to add some experience to their squad and brought in Żewłak and Daniel Ljuboja. A year ago I was confident that players like Wichniarek, Żurawski and Radomski will bring extra quality to the Ekstraklasa, but they all turned out to be bigger or smaller failures. That's why I won't predict that Żewłak will be a definite success at Legia. Still, I think that his character and skills predispose him to become the leader of the Skorża's team. It will be funny if he turns out to play better than Wojtkowiak or Jodłowiec.

Other interesting transfers:
Dawid Plizga (Zagłębie Lubin-Jagiellonia), Daniel Sikorski (Górnik Zabrze-Polonia Warsaw), Marcin Baszczyński (Atromitos-Polonia), Grzegorz Bonin (Górnik Zabrze-Polonia), Bartosz Bosacki, Tomasz Bandrowski (Lech Poznań-free transfer), Jakub Kosecki (ŁKS Łodź-Legia Warsaw, return from loan), Marek Saganowski (Atromitos-ŁKS Łodź)
Transfer rumours:

Grzegorz Sandomierski (Jagiellonia-Swansea): the Jagiellonia officials expect an offer of 3M from the newly promoted Premiership club.
Ariel Borysiuk (Legia-Udinese): Udinese is officially interested in Borysiuk, but is waiting to end the Alexis Sanchez transfer saga to make an official proposition. The matter should be resolved this week, this is a transfer very likely to happen.
Rumours I'm waiting offer: some serious offers for Ireneusz Jeleń, Ludovic Obraniak and Tomasz Kuszczak.
Subscribe

Poland World Cup Blog RSS Feed

Share
Comments

Cetnarski moved to Slask Wroclaw actually, but yah there are plenty of young talents to keep an eye on.
Posted from
United States

http://sport.onet.pl/pilka-nozna/liga-niemiecka/lukasz-piszczek-i-jego-koledzy-z-zaglebia-lubin-sk,1,4765953,wiadomosc.html
WTF guys our best defender!

Why isn't the club & coach punished?
They both benefited probably as much if not more than the players.
If you hold the clubs & coaches accountable then corruption will be minimal, they will stamp it out themselves.
What does "penalty of one year in prison, suspended for 3 years" actually mean?

its basically probation with a 3 year suspended sentence.
Posted from
United States

wtf?? will pisczek miss the euros???
Posted from
Canada

So he can play in The Champions League and National team if he doesnt do it again?

Is every single player going to be fined?. Even the ones not involved? Is this retarded judge going to fine all the players Zaglebie Lublin had in their youth division too?

To me it reads: one year to be served in prison, effective three years from now (so he can play in the euro, etc.. before then)

wowwwwwww. he will not be going to jail at alllllll unless he fucks up again. if he gets in trouble within the next three years then he will serve one year in prison. so, as of RIGHT NOW he is eligible for: euros, CL, EL, BL, world cup, etc.
Posted from
United States

Basically it means if he does anything against the rules of his probation in the next three years he will serve an automatic one year sentence. Unfortunately I know :S
Posted from
Poland

http://translate.google.com/translate?hl=en&sl=de&u=http://www.hannover96.de/&ei=5b4MTrvZJ8TGswaJyNDPDg&sa=X&oi=translate&ct=result&resnum=3&sqi=2&ved=0CE8Q7gEwAg&prev=/search%3Fq%3Dhannover%2B96%26hl%3Den%26biw%3D1280%26bih%3D709%26prmd%3Divnsu
wow

nice, sobiech to hannover is good.
Posted from
United States

Juninho – Anselmo Vendrechovski Junior:
http://www.transfermarkt.de/en/juninho/profil/spieler_52697.html
What's his problem?

great move for sobiech, hannover is a great club that plays in a good league, this should strengthen his chances on playing for poland and have a bigger role with the NT. Bundesliga is gonna continue to be a league to keep an eye on.
Btw in the latest world rankings poland moved up 4 spots to 64th i think?

any new rumors or movement out there???
Posted from
United States

Some updates for our Polish players and clubs
Here are the latest speculation and transfer moves – nothing official yet for some of these but Kosowski and Oli are already practicing with clubs…
Tomasz Kuszczak – West Brom for 2.5 million euro (supposidly MU want 4 million and Brom might not be able to afford it – I really hope he goes)
Kamil Kosowski – GKS Belchatow
Emmanual Olisadebe – Lechia Gdansk
Junior Diaz – back to Wisla Krakow
That's really it for now – no other major news happening ATM – if anybody has heard of anything else post it!

speculation.
dudek – leeds
boruc – liverpool

boruc- liverpool, aston villa and tottenham.

I'd love to see Boruc in the EPL…..as a starter, of course. Also, I'd like to see Kuszczak get the hell out of Man U where he warms the bench quite admirably.
Posted from
Canada

itd be stupid for boruc to go to liverpool, he would only be a backup to pepe reina.

Boruc has his best chance with the Hotspurs – unless Pool sell Reina!
Kuszczak needs to go to West Brom as rumours say…
two new prospects for Wisla – http://www.polandsoccerblog.com/2011/07/dudu-biton-and-junior-diaz-in-krakow.html
Posted from
Canada

http://euro2012.onet.pl/wiadomosci/franciszek-smuda-powola-eugena-polanskiego,1,4781973,artykul.html
Polanski decided to play for Poland, and will be called for matches against Georgia and Germany.
I don't like him… but he can make Poland better..

Polanski is not a bad player he is better than Murawski and is a team leader in the Midfield. I don't care what he said before he can actually help the team.

Slask Wroclaw close to signing scoring king Johan Voskamp!
http://www.polandsoccerblog.com/2011/07/slask-wroclaw-close-to-signing-scoring.html
According to his teams website – Rotterdam there is an article wishing him all the best in Poland and with their European Campaign!!!
Posted from
Canada

I'm dutch, Johan Voskamp play at Jupiler Leageu and that is te second devision, so don't to happy.. just saying..
Comments are closed