Squad Watch Week 7: The Ekstraklasa Title Up For Grabs.
October 18th, 2010 | by: tomasz |

Comments(56)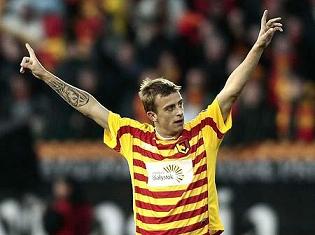 If you're not a prize-winner club and would like to win yourself a Polish championship the time is now. I can't remember the last time when the Ekstraklasa results were so against the expectations. The favourites are losing and the predicted mid table teams are at the top of the table. Just don't try to bet any money on the Polish league.
Goalkeepers:
Artur Boruc (Fiorentina): on the bench against Sampdoria
Łukasz Fabiański (Arsenal London): 90 minutes against Birmingham
Tomasz Kuszczak (ManUtd): on the bench against WestBrom
Grzegorz Sandomierski (Jagiellonia Bialystok): 90 minutes against Polonia Bytom, note 7
Wojciech Szczęsny (Arsenal London): on the bench against Birmingham
Przemyslaw Tytoń (Roda Kerkrade): 90 minutes against Vitesse
Łukasz Załuska (Celtic Glasgow): on the bench against Dundee United
Defenders:
Blażej Augustyn (Catania): not in the squad against Napoli, injury
Sebastian Boenisch (Werder Bremen): not in the squad against Freiburg
Dariusz Dudka (AJ Auxerre): 79 minutes against Bordeaux
Seweryn Gancarczyk (Lech Poznan): 90 minutes against Zagłębie, note 4
Kamil Glik (Palermo): on the bench against Bologna
Arkadiusz Głowacki (Trabzonspor): not in the squad against Kasimpasa, injury
Artur Jędrzejczyk (Legia Warsaw): on the bench against Widzew
Tomasz Jodłowiec (Polonia Warsaw): not in the squad against Śląsk, injury
Adam Kokoszka (Empoli F.C.): match today
Marcin Kowalczyk (Dinamo Moscow): not in the squad against Anzhi
Łukasz Mierzejewski (Cracovia): 90 minutes and a goal against Ruch, note 5
Dariusz Pietrasiak (Polonia Warsaw): 90 minutes and a goal against Śląsk, note 5
Łukasz Piszczek (Borussia Dortmund): 90 inutes against Koeln
Maciej Sadlok (Ruch Chorzow): 90 minutes and a goal against Cracovia, note 6
Alan Stulin (Kaiserslautern): not in the squad against Eintracht
Jakub Tosik (Polonia Warsaw): 1 minute against Śląsk
Grzegorz Wojtkowiak (Lech Poznan): not in the squad against Zagłębie, injury
Hubert Wołąkiewicz (Lechia Gdańsk): 90 minutes against Arka, note 6
Michał Żewłakow (Ankaragucu): 45 minutes against Galatasaray
Midfielders:
Tomasz Bandrowski (Lech Poznan): not in the squad against Zagłębie, injury
Jakub Błaszczykowski (Borussia Dortmund): 90 minutes and a goal against Koeln
Grzegorz Bonin (Górnik Zabrze): 89 minutes against Wisła, note 6
Ariel Borysiuk (Legia Warsaw): 90 minutes against Widzew, note 6
Mateusz Cetnarski (GKS Belchatow): not in the squad against Korona, injury
Tomasz Cywka (Derby County): 90 minutes against Preston
Jacek Kiełb (Lech Poznan): 12 minutes against Zagłębie
Tomasz Kupisz (Jagiellonia Bialystok): 86 minutes against Polonia Bytom, note 6
Grzegorz Krychowiak (Stade Reims): 90 minutes against Ajaccio
Roger Guerreiro (AEK Athens): 8 minutes against Aris
Maciej Iwański (Legia Warsaw): not in the squad against Widzew, relegated to reserves
Radosław Majewski (Nottingham Forest): 8 minutes against Barnsley
Patryk Małecki (Wisla Krakow): 82 minutes against Górnik, note 5
Adam Matuszczyk (FC Koeln): 90 minutes against Dortmund
Adrian Mierzejewski (Polonia Warsaw): 90 minutes against Śląsk, note 6
Rafał Murawski (Rubin Kazan): 68 minutes against Rostov
Ludovic Obraniak (Lille): 17 minutes against Lyon
Sławomir Peszko (Lech Poznan): 90 minutes against Zagłębie, note 5
Maciej Rybus (Legia Warsaw): 31 minutes against Widzew, note 4
Bartosz Salamon (Foggia): 26 minutes against Andria
Attackers:
Paweł Brożek (Wisla Krakow): 74 minutes against Górnik, note 5
Rafał Boguski (Wisla Krakow): not in the squad against Górnik, injury
Daniel Gołębiewski (Polonia Warsaw): 30 minutes against Śląsk, note 4
Kamil Grosicki (Jagiellonia Bialystok): 45 minutes against Polonia Bytom, note 6
Dawid Janczyk (Germinal): not in the squad against Lierse
Michał Janota (Go Ahead Eagles): 65 minutes against Volendam
Ireneusz Jeleń (AJ Auxerre): not in the squad against Bordeaux, injury
Robert Lewandowski (Borussia Dortmund): 14 minutes against Koeln
Andrzej Niedzielan (Korona Kielce): 41 minutes against Bełchatów, note 5
Dawid Nowak (GKS Belchatow): 50 minutes against Korona, note 6
Ebi Smolarek (Polonia Warsaw): 60 minutes against Śląsk, note 4
Artur Sobiech (Polonia Warsaw): not in the squad against Śląsk, banned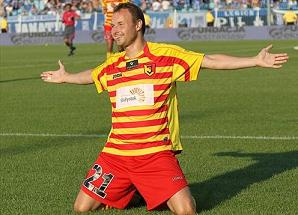 Summary: Just have a look at the Ekstraklasa standings: Jagiellonia Białystok is first, Korona Kielce second and Lechia Gdańsk third. From the pre season favourites, Polonia Warsaw is in the sixth place (three draws in a row), Wisła Kraków is in the seventh (one point in last two games), Legia Warsaw is eighth and the in crisis Lech Poznań occupies the fourteenth position (two losses in a row). Every result is possible in the Ekstraklasa making any pre game predictions absolutely nonsensical. However, one club that you can count on at the moment is Jagiellonia Białystok. They've won seven out of their nine games and are on the best way to be considered serious title contenders. Michał Probierz managed to avoid relegation last year (though Jaga started with minus ten points), won the Polish cup and strengthened the team before the current season. Jagiellonia looked really good in the European clash against Aris Thessaloniki, the best of the Polish clubs at this stage, and managed to maintain their good run of form in the league as well. It seems that Jaga doesn't follow any particular transfer strategy, they just try and find good players wherever possible. They have place for established Ekstraklasa players (Skerla, Lato, Grzyb, Hermes, Kascelan), experienced Poles returning home after foreign voyages (Frankowski, Burkhardt), first time in Poland foreigners (Kijanskas, Cionek, Norrambuena), youngsters (Sandomierski, Kupisz), players from lower divisions (Makuszewski) or even former gambling addicts (Grosicki). Probierz is not afraid to shuffle players a bit, he has no problem to leave Grosicki or Frankowski on the bench as he always tries to find the best possible lineup and strategy for the particular day and opponent. At first, I didn't believe that Jaga may go all the way, but after seeing the recent performances of the supposed favourites I'm ready to back up their title challenge. I also think Smuda should be a more frequent guest at Jagiellonia's games. Right now, he regularly calls up Sandomierski and Grosicki. The young keeper hasn't yet debuted in the national team and I don't think he'll get a proper chance soon. He hasn't got enough quality to surpass Boruc, isn't as praised by Smuda as Tytoń and wouldn't have a chance as well if he competed against Fabiański or Kuszczak. Nevertheless, he's a safe choice for the nr 3 as he definitely won't make any complaints about his role in the team. Grosicki's stature, on the other hand, should get more and more important with each friendly game as he remains one of few Polish players able to create something unordinary. If he's got no further problems with his head he'll have a lifetime opportunity to play in the most important tournament in the Polish football's history. I'm waiting until Smuda finally notices Tomasz Kupisz as well, especially that he even hands call ups to players like Grzegorz Bonin from Górnik. The guy may not be the next Kuba Błaszczykowski, but he's got decent speed, dribble and cross; everything that a proper right winger needs. What I like most about him, however, is his competitive character and enormous will to fight. Maybe that's the thing that he learnt sitting on Wigan's bench and playing in the English reserves' league. I'm not so excited about Thiago Cionek, a player who will soon get a Polish citizenship and a one that a lot of experts see as a national team candidate. Cionek is a very physical and aggressive defender, good enough to dominate the majority of Ekstraklasa strikers. However, he's not very impressive skill wise; I'd much prefer Damien Perquis or Manuel Arboleda if we're to improve the physical presence in our own box. Jagiellonia's final link to the national team is Tomasz Frankowski (six goals already this season): too old to be playing for it, but not too old to become a national team coach. Smuda has got a plan to make Franek a part of his coaching staff, the one responsible for attackers. I don't think there will be enough time for Franek to really improve our strikers' skills, but he may always teach them a trick or two. The collective training sessions certainly won't harm the players.
Borussia Dortmund is going for the title. Yeah, I know it's very early in the season, but after I saw three or four Dortmund's games this season and a lot of extended highlights I would find it very surprising if they're not competing for the top spot at the end of the season. At the moment, it's one of the most attractive teams to watch in Europe. As Polish fans, we can be proud that our three internationals are playing an important role in Dortmund's recent impressive run. Kuba Błaszczykowski has got a steady place in the starting lineup and he finally put his name on the scoresheet at the weekend. I think we'll have to watch Kuba carefully and worry about his form and fitness until 2012 as he's the key ingredient of our offense. At the moment, it's impossible to imagine the national team without him; a situation which has both its advantages (Kuba plays and behaves like a leader) and disadvantages (what if he's booked or injured?). I was surprised to see Łukasz Piszczek in Dortmund's lineup on Friday, I thought he'd be rested after a tiring trip over the ocean. The fact that he played the full ninety minutes only shows how strong his position in the team is at the moment. Robert Lewandowski has to settle for the impact sub role, unless someone gets injured, it's highly unlikely that he'll start the games for Dortmund. Still, he does make impact as his pass started the move after which Dortmund scored the decisive goal on Friday. Champions League football next year? Would be a dream for all Polish fans.
Who would have thought, Łukasz Fabiańki has just had a third good game in a row for the Gunners. I don't want to be a killjoy, but I'd wait for Almunia's comeback to fitness before blowing the horns of victory for Fabian. Only when I see Łukasz starting and the Spaniard sitting politely on the bench will I relax and feel comfortable with a thought that we have a starting keeper at Arsenal. Would be a very sweet thought.
Roger Guerreiro played his first minutes this season. He only came in as a substitute late in the game, but you have to start somewhere. He still has a lot of a season to recapture the spark that he treated the Polish fans with so often.
Highlights:
Kuba's accidental goal
Decisive goal for Dortmund, Lewy started the move
Łukasz Mierzejewski scores for Cracovia
Sadlok scores a total fluke
Dariusz Pietrasiak scores with a nice header
Subscribe

Poland World Cup Blog RSS Feed

Share
Comments

That's ridiculous! If he wants to play for A national team, go play for San Marino if all you want is to play international football. We don't need some 26 yr old dude who plays in the German 2nd league.
Posted from
United States

"why are all these foreign born players only now showing interest in playing for Poland?"
guaranteed spot in euro finals = millions of eyeballs = great chance for better contract

that would be my guess too duke.
Posted from
United States

That why Roger played for Poland.

Yes duke, that was a rhetorical question.
And matt, that's true. Roger did do that as well. But he did it when there was no guaranteed tournament to go to. So, I cut him some slack there. He was in the trenches for qualifiers as well. I doubt many, if any, of these new guys would be bringing up their Polish connection if Poland had to qualify for the Euros like all the others, save Ukraine.
And where are all the Ukrainian emigrants? They're hosting this party too.

Damn, I wish Gareth Bale was Polish.
Posted from
Canada

@ adas
Poland qualified for the European Championships completely without Roger. He was granted special citizenship like 3 months before the tournament. His case is no different than Brzenska except Brzenska has complete Polish blood in him. Both of his brothers were born there. He is way more qualified to play for Poland than Roger. It's bad he's showed interest this late, but if he were any good it's likely Poland would have tried to nab him before. I know we are always ragging on our scouts, especially in Germany, but somebody should've picked him out.
Posted from
United States

You're right. I had my info wrong. Roger did join after Euro qualification. So, my argument is lame there. Still, he's done more for Poland than Brzenska has. This is FIFA, your papers count more than your blood.
What does it matter where his brothers were born? They can play for Poland. He still needs to get papers. Papers he's not interested in getting if he can't play. And yet, he'd be more accepted by some of you than Roger or Arboleda (should he agree to play which I'm not convinced he would).
As the quote says, if it is true, he's excited to play for a national squad. Not the Polish squad necessarily, but any national squad.
And I do see a difference between Roger and Brzenska. Roger may have joined the team for Euro 2008 in Austria as a chance to improve his club career. That didn't happen, did it? He struggled to make a move after that tournament and wound up in Greece. No Champions League for him. Had he joined the team before qualifiers were over, I'm sure he would have played.
And didn't Leo have some hand in getting him to play for Poland? I'm not sure without Leo, Roger would play. Yet, Brzenska is looking to join Poland at the most convenient time. He wants the free ride to Euro 2012, where a lot more eyes would be on him than were ever on Roger. In terms of being opportunistic I find Brzenska guiltier than Roger. If Poland had to qualify I doubt Brzenska would throw his name out there.
And not just Brzenska. All these other players, I'll throw Boensich, Perquis, and maybe even Obraniak in the mix with them, are full of shit. I doubt any of them would be playing if we had to qualify for 2012 The way these latest ones come out and say they might play for Poland. They aren't sure. It comes off sounding like a cover in case Poland decides not to call them. You know, if Poland comes a-calling they'll be glad to. If not, they weren't really into the idea anyways.
Our problem is a Polish problem. Save for a foreign-born coach (which no one would argue against because no one cares how "Polish" the coach is) we need to fix this with our players. Obraniak and Boensich play for better teams in better leagues. They're not making enough of an impact to win us games (understanding that Obraniak's been with the team far longer than Boensich). Perquis? Won't be the edge we need. Koscielny? I think he's peaked, personally. Brzenska? Sounds to me like he thinks his best bet to play is Poland. Is he really that much better than what we have? If so, he's not gonna be the edge we need either.
In fact, these new guys coming out (not Obraniak and Boenisch) sound like they don't respect Poland much. Are these guys gonna come in and listen to Smuda and the staff when they are dealing with better respected management at their clubs? Someone come out and say that you will only play for Poland and no one else, and maybe I'll start taking everyone more seriously. Because quite frankly, I haven't seen a Polish side in what seems like forever. There's little pride, so far. There's little unity.
We're two years away, not a whole two years even. This team needs to start coming together no matter how bad the players are, or there will be no unity. A soccer team has to function like one cohesive unit. Positions are split up amongst forwards, midfielders, defenders, and the keeper. But it has to work as a cohesive unit, one living, breathing organism. I haven't seen much of that at this time, particularly at the back line. We need defenders who can read each other without speaking a word. Who are comfortable around each other. Every time we change the lineup back there, its like asking a man to go to bed not with his wife, but the neighbor's. Sometimes you get the better end of the deal, sometimes the worse. But the two have no chemistry and there's no fire in the bedroom. Its about time there was some fire in this Polish bedroom, or some such analogy.
Ugh…

For what it;s worth, Piotr Parzyszek in Football Manager 2011 demo is being bid on by Barce and Man U. In real life Aston Villa wants to sign him.
http://www.transfermarkt.co.uk/en/piotr-parzyszek/leistungsdaten/spieler_155202.html
Posted from
Canada

@ adas
Polish citizenship belongs to anyone born to Polish parents, regardless of place of birth. His papers surely then are in order. I'm not trying to haggle over Brzenska, but he and his family are clearly Polish I don't know the background on if he speaks the language or not but anyway in my mind his nationality is squared away.
However I agree with your statements about unity and cohesion as a team. I'd say a few performances, like the 2002 WC finale against the USA, the friendly win over Italy, and some games from the 2008 Euro qualifiers, showed a team that fought together and gave everything for each other. Perhaps some of the ex-pats are watering down the team a bit. I have always been under the impression it is the biggest honor in life to represent Poland, and basically any player who doesn't share that view should be shown the door. It really pains me to say it because Obraniak is one of my favorite players, but I cannot sincerely say he feels that way. You're right, adas, this team does have a serious issue completely independent from skill.
Posted from
United States

@Hieronim
Before I met the national team in Chicago I had the same opinion of Obraniak as you, but after he seemed to have a lot more passion than many of the poles on the team. First I went to a meet and greet and Obraniak was out with the fans until the last minute while guys like Murawski and Salamon were hiding in the back waiting to leave avoiding fans. At the end of the US game all the players were heading into the tunnel and Obraniak turns around and runs out onto the field again to thank the fans again and then goes to the Poland section and throws his jersey to the fans! Did he need to do that? No of course not, none of these things will help him advance his career but it sure showed how much he appreciates wearing a white eagle on his chest!
As it goes with calling up these other foreigners on the Polish National team I say go for it. The team is not strong enough to just pass up talent and what is wrong giving someone a chance to prove his worth? Until he is on the pitch nobody will be able to predict how much passion the player has for the country they are representing. Brzenska (26) or Pietrasiak(30)? We lack quality! I'll take Brzenska to see what hes got.
Posted from
United States

Hieronim
to you and I, yes he is Polish. We're talking in terms of FIFA. They don't care what blood he has, who his parents were, or what language he speaks (trust me, who has Polish parents, brothers and doesn't speak Polish? Even my sister and I know quite a bit). He doesn't, as of right now, have the appropriate papers to make him Polish in FIFA's eyes. And he can't just walk over to Poland and get them whenever he asks. He still has to fill out the paperwork to get his passport, and that will take some time, even if its only a week or two.
Same with me. Am I Polish? Yes. Both my parents were born in Poland. If I were a world-class footballer? Not until I get my passport. That's FIFA's rule, not mine.
And the only interest he has to get said papers relates to his role on the national team. Now, my argument is that if his attitude is like this, than no matter how Polish his roots may be, his heart is not. If his heart is not Polish, he will not play with the right heart on the pitch. If he's not gonna play with a Polish heart, then he's not gonna help us win. Even if he had the skills of Maradona, Pele, and God, we're not about to win if his heart isn't ours as well. Am I making my argument against him clear?
He can be as, if not more, Polish as I am. But in terms of football, he'll never be. Therefore, citizen of Poland, yes. Member of the national team, I think not.
My argument against him, and I understand you're not arguing for him, is that he says playing for any national team would be exciting. Yes, it would. But if I had some ties to San Marino and they came calling for me, I would not go play.
I know, being American and Polish, that I would put all my effort into playing for Poland. I would turn the US down in hopes I could play for Poland. But that's just make-believe.

MikeS.
I don't care how talented these other players are. What's the thing to bond them and get them to play as a unit? They're all scattered across different leagues and teams. Not all of them speak Polish. You can't just mish-mash players together and get them to play well.
Also, I think we're forgetting that this could lead to a backlash against Smuda and probably even more-so against the PZPN. The media is delusional and will take any cheap shot they can. Bring in the foreigners and win, and most people will be cheering. Start losing? And they'll blame it on the decision to take imported talent over naturals (and yes, I do beleive there will be people in Polish press saying we have better homegrown players. This is the media we're talking about).
Have we forgotten the Leo debacle? He came in, everything was great. He struggles with a weak team, and he's the scapegoat. Imagine a team overrun by foreigners. Smuda would be turned into another villain in the end. Who wants that?
And don't tell me that won't happen. Because there will be a difference between Smolarek and Lewandowski compared to Perquis and Boenisch. People will always relate to the former (even Ebi who grew up outside of Poland, his dad was part of our history) rather than the latter. Unless we start winning Euros and World Cups there is a huge possibility opening up the team will turn in the end.

Sorry guys, can't sleep tonight. So I'm a rant a little more.
tomasz does a great job on his blog here. Especially considering there's not a lot to be excited about in terms of Polish football. So, thank you very much.
This argument that bringing in foreigners (I call them that for lack of a better word) will be better than what we have is erroneous. I'm leaving a link here for an article written about Montenegro by a neutral party.
http://football-speak.blogspot.com/2010/10/so-just-who-are-montenegro.html
He does a good job of giving the quick history of the Montenegrin FA, which hadn't been established until after Euro 2008 qualifiers began. In that short time, they started in 199th place in the FIFA rankings, and have moved up as high as 73rd. Poland has failed to hold steady in that same time.
They have two World-Class players, Stevan Jovetic (Fiorentina) and Mirko Vucinic (Roma). Both of them have been out of the national team with injuries lately, leaving the team entirely composed of players no one has really heard of (or maybe just me). So, we can consider them equal with Poland on those terms, roughly.
And still, they sit atop Group G Euro Qualifiers undefeated (3 wins, 1 draw) halfway through. That includes a scoreless away draw to England.
Now, England aren't the team they think they are. And the rest of the group consists of Bulgaria, Switzerland, and Wales. But, stick Poland in Montenegro's place and we're struggling to compete.
In fact, Poland vs Montenegro, I'm going to give the advantage to Montenegro and assume that at best Poland earns a draw. And I think the pride and work ethic are the main difference. Their current players can't be miles better than the best team put together of Polish stars. I can't see that. And yet, they're playing like a unit and getting results. Poland struggles to get a victory against an Ecuadoran B team (at best). Have you seen them play as a unit for 90 minutes combined? Over all the friendlies since the World Cup failure?
Now, they may not finish tops of Group G, but I'm pretty sure Montenegro will be going to Poland or Ukraine come 2012.
Here's a list of all the players that have taken part in Group G qualifiers for Montenegro thus far. I'm listing the position, player's name, number of appearances (out of 4 games) and the club they play for. There are some good teams listed (Jagiellonia Bialystock, I'm looking at you ;p). But even if these players start regularly for their teams, they aren't the ones who carry that team. And yet, put that Montenegrin crest on their shirts, and they're like a giant footballing machine. Don't tell me Poland can't become half of that. This is Montenegro, not Italy, Spain, or Germany.
GK Mladen Bozovic 4 games Videoton (Hungary)
DF Savo Pavicevic 2 games Maccabi Tel-Aviv (Israel)
DF Marko Basa 4 games Lokomotiv Moskva (Russia)
DF Milan Jovanovic 4 games Spartak Nalchik (Russia)
DF Radoslav Batak 1 game Antalyaspor (Turkey)
DF Elsad Zverotic 4 games Luzern (Switzerland)
DF Miodrag Dzudovic 4 games Spartak Nalchik (Russia)
DF Stefan Savic 2 games Partizan (Serbia)
MF Mladen Kascelan 3 games Jagiellonia Bia (Polska)
MF Simon Vukcevic 4 games Sporting (Portugal)
MF Branko Boskovic 4 games Rapid Wien (Austria)
MF Mitar Novakovic 4 games Amkar (Russia)
MF Milorad Pekovic 3 games Furth (Germany)
MF Vladimir Bozovic 2 games Rapid Bucuresti (Romania)
FW Fatos Beciraj 3 games Dinamo Zagreb (Croatia)
FW Mirko Vucinic 3 games Roma (Italy)
FW Radomir Djalovic 4 games Rijeka (Croatia)
FW Andrija Delibasic 1 game Hercules (Spain)

Oh, wow. Montnegro's actually crept up as high as 26th in FIFA rankings now. How is this possible? Someone send a representative to Montenegro to learn how to put together a national team. Now!

folks,
on paper our team is very strong when we have a full starting lineup, if our Boenisch came back and Perquis comes in them our defence is alright. There is just over 1 year and a half till euro 2012 begins and Smuda has just set up friendly games aginst Portugal, France, Turkey, Germany and Spain. Smuda says in february (which is the first game we play in the new year vs portugal) he wants to take many players and start a camp containing many who have a shot at making the euros. Which will maybe give us an idea of who will start in 2012.
As for Brzenska he's not polish, he's never considered them before and expresses interest now because he hopes to go and get offered a contract for a better team? im srry but if u have no will desire and passion to play for Poland then u dont deserve to play for the.Obraniak is a different story, he always puts in his best in every game and said previously before that he was interested with connecting with his heritage, before he played his first game vs greece, he learned to sing the national anthem and made an effort to learn the basics of Polish.
As for boenisch he's a player who we desperately needed in the backline and in the 2 games he played he was pretty solid.
i dont think it occured to anyone, and it didnt to me either but when we won the right to host the euros, shouldnt we have maybe expected players who have polish blood in them to suddenly get interest to play for Poland? for exposure etc.. this may have also been a benefit as it gives Poland more options and snatched up players like ludo, perquis and boenisch. maybe this was the help with the euros and we should take advantage of this is the players that express interest are willing to put in whole hearted performances.

Dont read too much into the rankings mind, they're not worth a wank.
Like you said England aren't as good as they think they are, they are full of their own self importance labelling Montenegros draw with them "A famous result for Montenegro". Why ? because they lost to a team that got smashed 4-1 by Germany in the second round of the worldcup and only got that far because they qualified from a relitively week group. Drew with USA – so did we, Drew with Algeria – Wow! and scraped a 1-0 win over Slovenia. Now I know they drew with and beat us but lets face it, we were already on a downward slope and had nothing but pride to play for at that point (which we didnt manage to do either).
What I'm saying is Big teams aren't as big as they think they are and small teams aren't as bad as people think they are.
What ever anyone says we have got some real quality, we have the correct ingredients we just need to find the right recipe.
We have 3 regulars at Dortmund, A leading striker in Ligue 1, 4 or 5 quality goalkeepers, and several players in various other positions that other teams would be proud to have. We just need to click and once we do we'll be back on form, its just a confidence thing and that I'm sure of, doesnt make it easier to swallow after shit results but the hope is there
Posted from
Greece

Brzenska's (lack of) citizenship aside, the fact that Smuda wants to have a look at him only shows how desperate he is. He's aware that at the moment we don't have anyone who's certain to play as a centre back at Euros. Though Brzenska played some games for Dortmund in his time, I don't have high hopes for him being the answer to our problems.

I also got to wade into this Polish or not debate.
If someone wants to play for Poland because they love Poland and they want to represent Poland for the right reasons then they are Polish. Just like some of the Tatars in the 16th century, they chose to fight for Poland against their own ancestors. If any foreigner shows that type of commitment he's Polish in my eyes. And If any Pole choses to fight against us…. he's not. Yeah I'm lookin at you KOSCIELNY!!!
Posted from
Greece

Hey guys, I am only half Polish through my mom. Many Polish people don't consider me Polish because my surname is Irish and I wasn't born in Poland, even though I love Poland and always talked about it positively to friends, etc.
Polish people seem different than others, they only consider you Polish if you were born in Poland or you are a big name/famous outside Poland. They seem to have a negative attitude towards Poles born abroad, half-breeds like myself, and especially towards people of Polish descent who cannot speak the language.
Oh well, it won't stop me from considering myself Polish.
Cheers guys.
Posted from
Canada

I do understand what you're talking about adas. It's just that the full situation isn't really known, at least I have no idea if this is really the first time Brzenska has thought about playing for us. I mean, should he really have to announce he wants too? Shouldn't the scouts be asking him if they believe he is good enough and worthy?
Obraniak was very gracious to us after the Chicago game, very true. I guess I just expect him to be more vocal and fiery on the pitch during the games. Perhaps that will come in time.
Posted from
United States

The best thing about the Euros is that the Polish team will have some exposure and some good teams will take some of our players.
Posted from
Canada

Thomas,
have you ever been to Poland? I went, and I was more accepted there than by other Polish immigrants here in the US.
I think its a geographical thing. But in Poland, from my experience, the people love it when the prodigal son returns. The fact that I could speak some? They loved it. Some of them lied and told me my accent was very good. Oh well, it was worth the trip.

Hieronim,
you're right. I said many times if the quote is true, this is how I feel. I couldn't sleep and was fiery and passionate. Not always the best circumstances to start raving on and on.
And Wejher, the rankings are crap. I don't buy them one bit. But the state of Polish football has me believing we'd never do the same given similar circumstances. And that's what worries. Montenegro are clearly not the 26th best team in the World. But you have to admit, right now they're better than Poland. And that, for me, is a bit insulting.

Montenegro FA is a great story and I hope they continue to do well. They have not given up a goal in the first four of the group qualifying. Good defense is so important.
Posted from
United States
Comments are closed