Squad Watch: Week 5. Wisła Kraków Nearly Crowned Polish Champion.
April 5th, 2011 | by: tomasz |

Comments(57)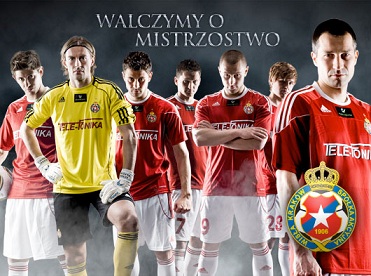 It was supposed to be a very close title race. Jagiellonia Białystok was to everything possible to fight for their first ever championship. Legia Warsaw was to get much stronger after the winter break due to transfers and Maciej Skorża's work. Lech Poznań was to forget about the European adventure, concentrate solely on the league and earn win after win. None of this happened. In the end, Wisła Kraków looks like the only team interested in winning the title. After their victory against Jagiellonia at the weekend they already have an eight point advantage.
Goalkeepers:
Artur Boruc (Fiorentina): 90 minutes against Cesena
Tomasz Kuszczak (ManUtd): 90 minutes against West Ham
Sebastian Małkowski (Lechia Gdańsk): 90 minutes against GKS B., note 6
Grzegorz Sandomierski (Jagiellonia Bialystok): 90 minutes against Wisła, note 5
Wojciech Szczęsny (Arsenal London): not in the squad against Blackburn, injury
Przemyslaw Tytoń (Roda Kerkrade): not in the squad against Willem II, injury
Łukasz Załuska (Celtic Glasgow): match postponed
Defenders:
Blażej Augustyn (Catania): on the bench against Palermo
Piotr Brożek (Trabzonspor): 90 minutes against Konyaspor
Piotr Celeban (Śląsk Wrocław): 90 minutes against Lech, note 6
Dariusz Dudka (AJ Auxerre): 90 minutes against Rennes
Kamil Glik (Bari): 18 minutes against Parma
Arkadiusz Głowacki (Trabzonspor): on the bench against Konyaspor
Tomasz Jodłowiec (Polonia Warsaw): 90 minutes against Korona, note 5
Marcin Kikut (Lech Poznań): 90 minutes against Śląsk, note 6
Łukasz Piszczek (Borussia Dortmund): 90 minutes and an assist against Hannover
Jakub Rzeźniczak (Legia Warsaw): 90 minutes against Ruch, note 5
Maciej Sadlok (Polonia Warsaw): 45 minutes against Korona, note 4
Marcin Wasilewski (Anderlecht): 45 minutes against Standard Liege
Grzegorz Wojtkowiak (Lech Poznań): not in the squad against Śląsk, injury
Hubert Wołąkiewicz (Lech Poznań): 90 minutes against Śląsk, note 6
Michał Żewłakow (Ankaragucu): 44 minutes against Eskisehirspor
Midfielders:
Tomasz Bandrowski (Lech Poznan): not in the squad against Śląsk, injury
Jakub Błaszczykowski (Borussia Dortmund): 20 minutes against Hannover
Ariel Borysiuk (Legia Warsaw): not in the squad against Ruch
Mateusz Cetnarski (GKS Belchatow): 90 minutes against Lechia, note 5
Tomasz Cywka (Derby County): on the bench against Cardiff
Janusz Gol (Legia Warsaw): 15 minutes against Ruch, note 4
Roger Guerreiro (AEK Athens): 66 minutes and a goal against Atromitos
Maciej Iwański (Manisaspor): on the bench against Genclerbirligi
Jacek Kiełb (Lech Poznań): not in the squad against Śląsk
Tomasz Kupisz (Jagiellonia Bialystok): 90 minutes against Wisła, note 6
Grzegorz Krychowiak (Stade Reims): 90 minutes against Tours
Radosław Majewski (Nottingham Forest): 90 minutes against Leeds
Patryk Małecki (Wisla Krakow): 80 minutes against Jagiellonia, note 5
Adam Matuszczyk (FC Koeln): on the bench against Nurnberg
Adrian Mierzejewski (Polonia Warsaw): 90 minutes and a goal against Korona, note 6
Rafał Murawski (Lech Poznań): 29 minutes against Śląsk, note 5
Ludovic Obraniak (Lille): 6 minutes against Caen
Sławomir Peszko (FC Koeln): 90 minutes and an assist against Nurnberg
Maciej Rybus (Legia Warsaw): 76 minutes and a goal against Ruch, note 6
Bartosz Salamon (Foggia): not in the squad against Siracusa, injury
Cezary Wilk (Wisła Kraków): 19 minutes against Jagiellonia, note 6
Attackers:
Paweł Brożek (Trabzonspor): 1 minute against Konyaspor
Kamil Grosicki (Sivasspor): 90 minutes and an assist against Besiktas
Michał Janota (Go Ahead Eagles): 71 minutes against RBC
Ireneusz Jeleń (AJ Auxerre): not in the squad against Rennes, injury
Michał Kucharczyk (Legia Warsaw): 71 minutes and an assist against Ruch, note 5
Robert Lewandowski (Borussia Dortmund): 70 minutes against Hannover
Andrzej Niedzielan (Korona Kielce): 90 minutes against Polonia, note 5
Dawid Nowak (GKS Belchatow): 34 minutes against Lechia, note 4
Szymon Pawłowski (Zagłębie Lubin): 90 minutes and two goals against Polonia B., note 6
Dawid Plizga (Zagłębie Lubin): 45 minutes against Polonia B., note 4
Marcin Robak (Konyaspor): 90 minutes against Trabzonspor
Ebi Smolarek (Polonia Warsaw): 90 minutes, a goal and an assist against Korona, note 7
Artur Sobiech (Polonia Warsaw): 67 minutes, a goal and an assist against Korona, note 6
Summary: You know what's the worst thing about this situation? It's not that the championship race has become extremely boring, it's the fact that Wisła aren't even in great form themselves. It's not Wisła that developed and strengthened, it's the other clubs that are just too weak to pose any threat to the Biała Gwiazda. Of course, Wisła made good transfers (Melikson, Pareiko, Jaliens), has charismatic leaders (Sobolewski, Małecki) and Andraz Kirm is playing the best football in his career, but I wouldn't describe them as a quality team based on what I've seen. They're just the only team from the top of the table that isn't performing below expectations. At the same time, they are not exactly performing above them. Wisła is doing their thing, whereas other teams stumble to earn a positive result. We are far from seeing the Kasperczak era Biała Gwiazda when the Kraków team devastated easily anyone that they came across. This was a great team to watch, you could always count on multiple goals, great actions and a high tempo. Now, the new Wisła team is far from thrilling and impressing the objective fans. They collect points, are good at that, but they're doing nothing that would promise a success in European competition. Nevertheless, at the moment they are the only team that deserves to represent us in CL qualifiers.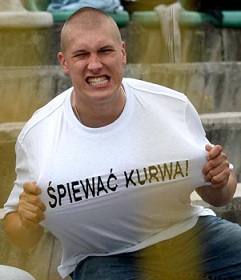 Better Wisła than Legia, a team that once again let their faithful fans down. Maciej Skorża doesn't seem to know what's happening around him in Warsaw. He rotates the players all the time, but no clear formation or a strong starting lineup has developed in the process. The question is whether it's Skorża's fault or whether he just has poor players at his disposal. When you look at guys like Komorowski, Antolovic, Kelhar or Ogbuke you opt for the latter. At the same time, there is definitely enough quality in the team to defeat Ruch at home in front of the packed crowd. Fans create a great atmosphere at Łazienkowska, but once again giving them too much power proved lethal for the image of the club. One of the ultras' leaders, nicknamed 'Staruch', attacked Kuba Rzeźniczak after the game and wasn't even caught by the security stewards, though they were watching the accident from nearby. This shows that the fans' organization feels too comfortable at Legia and only confirms the fact that they can't be given too much responsibility. They stick to the rules and agreements as long as it's comfortbale for them, but break them without second thought if that's what they feel like doing. They accept nobody's supervision but their own. As much as I love energetic support, I don't want to pay too high a price for it and give the control of the stands to the fanatics. After visiting several stadiums abroad, I know that great atmosphere is possible without muscular 'organizers' who make others chant and pick out those who, in their eyes, aren't trying hard enough. The support for your team is your right, not your obligation. We should accept that some people come to the stadium just to spend some nice time with friends or family, not necessarily suffer a sore throat.
I read an interesting interview with Michał Żewłakow today, a one that sheds light on the atmosphere in the team. Now that he's already played his last game for the national team Żewłak could have been honest in his opinions. Here's what he said:
About his expulsion: I'd like to know what was it about. Was it about the wine? About the fact that I'm too cheeky? Too slow? Too old? Too fat? I'd like Smuda to tell me directly, like a wife to a husband who's become ugly and doesn't perform in bed.
About Smuda's attitude: he doesn't want any individualities, charismatic players or anyone who has something to say. He is to be the biggest star of the team, the rest is to be quiet.
About his mistakes: I'd even agree with such a harsh evaluation of myself by the coach if it was made by someone who's crystal clear, a role model with impeccable manners. We all know that coach Smuda is not a saint in all departments.
After Robert Lewandowski's statement in which he complained about the lack of proper tactical formation, this is another interview that undermines Smuda's position as the right person to govern the national team. Do you agree that Franz creates a team of yes-men, or are these only complaints of a rejected and offended 'lover'?
Highlights:
A weekend of assists, first Łukasz Piszczek…
…then Sławomir Peszko…
…and finally Kamil Grosicki
A goal from Roger in the Greek league
A nice goal from Maciej Rybus
Szymon Pawłowski shows a quality finish
Goals from Sobiech, Mierzejewski and Smolarek for Polonia Warsaw
Subscribe

Poland World Cup Blog RSS Feed

Share
Comments

I knew Kuba had one coming!
@ Adas
I guess we'll just have to agree to disagree. It's unfortunate that we couldn't have reached this point without you calling me a name because of my views. I remember you being concerned about no one attacking anyone personally..
Posted from
United States

way to go Kuba!
@adas,
Theres actually plenty to look forward to, Poland is going to be hosting the 2nd biggest soccer tournament in the world and one of the biggest competitions in the world, we're getting new beautiful state of the art stadiums and we will be welcoming some of the biggest players in the world to our own country, our national team will be playing on home soil and be get to play in front of its own fans on home turf. Even if we get our asses kicked at least we had the opportunity to host a major tournament and improve everything from infrastructure to the development of the game and welcome thousands to our country to show them how great Poland really is.
now theres something to look forward to.

Well J,
I really don't think calling someone an idiot is a personal attack. I didn't go so far as to claim that your an idiot with everything that you do. I stated that if you believe Artur shouldn't "humiliate" himself then you are an idiot. Because to me that statement is idiotic. I didn't go so far as to claim that you have issues. I know nothing about that matter, nor will I try to infer anything from your one statement. I apologize for having offended you, but I didn't personally attack you. To truly believe your statement is idiotic because you can't criticize Smuda for putting himself ahead of the team if you don't hold Artur to the same standards. Refusing to "humiliate" yourself when the team truly needs you is putting yourself before the team. So, anyone who agrees with your statement is wrong for thinking it as well. You can't hold members of the team to completely different standards. I'm not trying defend Smuda. I'm trying to steer conversation away from him. And if you want to complain, there is plenty to complain about.
Timmy,
You are absolutely right. But as Kuba M has brought up, there has been far too much talk about Smuda here lately. And all talking about Smuda is negative. There is nothing good to be said about the man. Having been stupid enough to join the conversation, I just see everything as negative now. There's plenty of blame to pass around for the performance of the team. More importantly, I think we as fans just expect something from the team that it is not capable of. The way some people are talking it seems as though it would be better for Poland to bow out and allow a more deserving team to play. They can still host the tournament, and try to win over the hearts of the people by just putting on a great show.
So thank you, Timmy. You have instilled some hope in me that there will be something to cheer about come 2012. And that's whether or not you know who is still with the team.
adas

(insert international coach here) for euro 2012
Posted from
United States

@Adas,
It seems you are the only one that is defending Smuda and everyone else who makes a stand against him is stupid.
Just look at the facts that are in front of you, we have not won one big game except for the Ivory Coast match everything else has been shit. We are ranked the worst ever under FIFA rankings which is not going to help us with our World Cup pot. We cant string a couple of passes together because we keep switching up tactics. Our organization is horrendous and by far the biggest mistake is making Kuba Blaczykowski our captain, he is not a leader maybe he is decent on the field at times, but can you see him yelling at our players to shape up? NO!!!!!! because he is not a leader and Smuda picked him because he is the mellowest and he can control him in anyway…Just like the interview with Michal Zewlakow about Smuda..he does not like anyone opinion instead he takes comments or disagreements with the NT as a personal attack against him.
How can we have a coach that will not listen to his players, his ego is above everyone and when you start blaming the pitch for your loss that is just pathetic. VS Greece we should of ate them alive as we played their B team minus 4-5 regular players as they don't care for the friendly and are playing for EURO. SMUDA was happy with the draw how can you be happy? I am not I am sick of this shit he is a brutal leader we need a change now… I am sick of going into an important tournament losing the first two and winning the 3rd unimportant game..POINTLESS!!

bigcmos,
This is the last I'm going to say on this. You've attacked Smuda in a personal manner. I don't know anyone on the team personally and I doubt you do either. Saying he is "a fucking idiot" or "just an asshole" doesn't belong on a soccer blog. You're making blanket statements across the board about a man you don't know, even going so far as to call him "evil". I don't care for that type of talk, so in that way I am defending Smuda and I will defend anyone that way. Keep your opinions about soccer please. But at this point, we all know how you feel about Smuda.
I am trying to argue that Smuda isn't the only problem. I wish more people would see that. But go on, blame Smuda for everything. Even the poor performance of Lewandowski for Dortmund lately. For Artur not being on the team. For Zewlakow retiring. Hell, why stop there? I'm sure Smuda is the reason Japan has been getting hit by earthquakes and tsunamis. There are wars going on because of Smuda, too. My point is, he's not the antichrist of football in Poland and many here seem to think so. I place the blame with EVERYONE associated with Polish football because the incompetance, or "stink" doesn't start with the head here. It is all over from top to bottom. Incompetant FA, coaches who don't seem to know how to run a team, players that don't care to play, fans that think they know all the answers. The whole thing is a mess.
And I beg to differ. Smuda hasn't had the opportunity to coach a game that matters. Even the Ivory Coast game was a friendly. Smuda won't get a chance to coach a real, meaningful game until Euro 2012. Maybe then the players will be motivated. But Poland's not the only country to struggle with preparing their team when they don't have a meaningful game to play until they actually host the tournament they're trying to prepare for.
Now, if you criticize Smuda for switching tactics, I won't argue with you. If you claim he puts his ego above the team, then make the same claim for Boruc, because he is doing the same thing. If you really think that Poland is better than Greece, then be upset. I wasn't happy with the draw at first. But now, in retrospect, I'm quite pleased. We have no defense. So, holding an opponent scoreless is important to me. Our midfield dissapears for entire segments of games. So the fact that Greece didn't run circles around our boys surprised me. And with Lewy playing as badly as he is as our sole striker, I can't say I expect more than a goal from this team. So, a 0-0 draw was quite appropriate. You need to stop thinking that this current team can be great. I don't care how many strikers Smuda or any coach put out for this team. Scoring goals in a league where you have chemistry and better players surrounding you doesn't mean you'll score on an average national team.
And as for losing two games then winning a third pointless one, that seems to be Poland's MO. The last three coaches all experienced this, and they had different tactics, personel skills, etc. Maybe it's time you admitted that Poland just isn't good enough yet to really compete at a tournament, regardless of who is coach. And if that frustrates you, then good. It pisses me off, too. I've been waiting my whole life to see a truly, competetive Polish side. I don't know if it'll happen.
In conclusion, here's my biggest point. I don't think Poland can get a great coach to come on board. I don't think there is enough time for this group of players to learn a new system or buy into any coach's tactics, etc. I feel like the team is a revolving door for coaches who can do their best or worst, and history has shown that the result is loss, loss, draw/win. At least this time, the players won't have far to go home. I'm tired of all the Smuda talk. I don't care if he stays or goes, though I just don't see the FA getting rid of him. So, rather than cursing him until kingdom come, I'm just gonna live with him as coach. Becuse, nothing I say or do will change that fact. This is poland.worldcup.blog, not smuda.worldcup.blog. So maybe we can get back to talking about all things with Polish football, and not just one man.

Adas –
First – you call J an idiot.
Second – you say "I really don't think calling someone an idiot is a personal attack.'
Third time – you say "Saying he is "a fucking idiot" or "just an asshole" doesn't belong on a soccer blog.
How about picking a side & sticking to it.
TO ALL –
If somebody only wants to talk about Smuda then it is his right to. If you do not like a topic of discussion then start a new topic, do not just tell everybody else to stop talking about it.
Below is a link to Kuba's goal.
http://tv.zczuba.pl/zczubatv/1,89849,9405141,HSV___Borussia__Blaszczykowski_wyrownuje_w_doliczonym.html

JZ,
I said, "If you take Artur and Michal's side, because no one should humiliate themselves for Smuda, then you're an idiot." We've all been told we are stupid for something we've done or said, been told something we've said is stupid, told someone else they were stupid for something done or said, etc. That doesn't mean we actually believe that the person is stupid, an idiot, etc. in every aspect. It's a figure of speech. Calling someone a "fucking idiot" or "an asshole", especially in a generalized statement that goes across the board of everything the individual does, is going beyond calling someone stupid or an idiot for something they have said that you find to be stupid or idiotic. It's distasteful. I didn't call J an idiot. I said if he felt a certain way about an issue, then he's an idiot, and it's implied to the pertainment of the issue. I didn't call him an outright idiot, or a fucking idiot, or an asshole. There was no blatant personal attack. So, you see, I am sticking to a side.
In the future, if someone says Smuda is an idiot because he decided to play Kuba as a goalkeeper, I won't comment. To me, that does seem to be a stupid move. But if someone says that anyone, including J or you JZ is a (insert inappropriate comment here) then I will defend you as well.
I hope you can see the difference. There was no hatred, or anger in what I said to J. It wasn't a blanket statement about J. Though I find his backing of certain players who seem to be putting their egos ahead of the team while criticizing a coach who does the same thing idiotic, I'm quite confident that J excels at many other things, including his support and criticism of all things Polish football.
As for your TO ALL-
You are correct. But I also have a right to try and argue my view, even if it is that all the talk is about Smuda.

adas,
I'm not here to argue meaningless points, we have evidence on Smuda, his behavior, his tactics, his game plans, his attitude, his player selection and his player management. The above categories deserve a "F."
I don't really care if you don't like the way I speak about Smuda but to me he is an idiot, an amateur coach that should of never been our NT coach, but what bothers me that you consistently defend Smuda by saying it is more than him it is the team.
He is the coach, under him we have had no success if success to you is a draw between Greece then you have no passion for Polish football.
I don't give a shit about our bad defense we have a good offense but guess what we are not organized and that goes back to Smuda. We should of beat Greece 3-2 and I would been happy because we scored but got scored on and I would be happy with that. With a 0-0 draw vs their B team. I am not happy.
I have been following Polish football since I can remember, I was raised in Poland and moved to Canada and it continues to be my passion.
As a life long fan, I am sick of mediocrity and excuses. You say the players are lacking motivation, they show no fire.
Look at the facts, they are not pushed they don't want to play for this coach, if anything they are jailed every time they travel for the kadra. All have to be in their rooms cant leave cant talk how they think to the coach. Is this a healthy environment?
Fuck, I wouldn't want to play in that either!
I am guessing we wont have to wait long for a change, Smuda continues with the same bullshit, France will fucking stomp us and then Smuda will get fired. Mark my words this will come and I cant wait.
You know a coach is doing wrong when the best players are not getting called up, and when players that deserve a shot get 8 minutes to showcase their talent. If you want a coach like that then you have no passion for our team that is the Polish kadra.
As for our boys, last week several players abroad made several important assists, blaczykowski and piszczek for example. This week we continue with good form kuba and dudka with two important late goals and again piszczek with another great assist.
Thank God, Kuszczak is finally leaving after 5 pointless years hope he gets a shot in another EPL club or Spain. He is good enough to play, just needs a shot. And, Szczesny will be back soon from that finger injury.

bigc,
I'm over it, let's move on.
Interesting fact. Our most capped player in terms of playing in an international tournament (actual tournament, not including qualifiers) seems to be Dariusz Dudka. That worries me a ton. He came on as a sub once in WC 2006, but started all 3 Euro games in 2008.
And now a question. Ireneusz Jelen made one appearance as a substiute and two starts in WC 2006. Yet, he didn't make the field in Euro 2008. I know he played in some of the qualifiers for that tourney. I can't seem to find info if he was with the team in Austria. I'm assuming he was. Can anyone verify that for me?

@adas
I think Jelen made the squad but got hurt right before the tournament, not 100% sure though. And thanks for agreeing with my comment earlier, it seems people have forgotten what hosting the euro is also all about, it gives a light in everything bad going on in the NT lately.
All of you make some great points about Smuda among other things. Personally i think Smuda is not the right coach and if he left the NT would be a lot better IMO. But you also have to put the blame on the PZPN for keeping this clown on for so long. Im not going to give my entire view about Smuda and how the NT would be with him and all the other stuff everyones been talking about lately. tomasz, if you want maybe you could write an article on the views of Smuda and what youd honestly think about him and finally come to a sort of conclusion on all this.
Anyway, apparently Kuszczak is having serious interest from Galatasaray in Turkey, there a big and very respectable club but this season theyve really encountered some problems with the team itself.

@ adas and Timmy
I'm pretty sure Jelen wasn't on the EURO list, his name was probably crossed off the list in the first couple cuts. His health wasn't the only issue, Leo never really liked his direct counter-attack style and claimed he didn't fit his tactics. If you go far enough back on the posts tomasz wrote here on the blog you'll find mention of that for sure.
I actually like Dudka, I thought he and M. Lewandowski were a great tandem during Beenhakker's tenure. The issue is in Smuda's system I feel his weaknesses are really exposed. Smuda expects his midfielders to have a perfect balance in offense and defense which is very much needed in a 3 midfielder formation. Back in Leo's day he could focus on ball winning and bringing some bite to the game with Mariusz, now his role suits him poorly. Which leads back to our arguments on tactics and formation… haha
Posted from
United States

Thanks Timmy.
Hieronym, I'm not sure that health wasn't also an issue. He was having back problems that kept him out of league matches prior to the tourney. Either way, it's a shame. There's not a lot of experience on this squad.
All I meant about the Dudka comment was that he has the most experience but isn't a focal point of the team. (Note, I only looked at all the players used in the last 3 friendlies assuming that Smuda's gonna pick his team from that lot). Dudka made one appearance off the bench in WC 06, and started 3 games in Euro 08. Other than that, Pisczek came off the bench once in Euro 08, Murawski started once and subbed once in 08, and Guerreiro started twice and subbed once in 08 (now he's a bench player). We don't have any real experience on the team. That means we have a young team, and I don't think we can expect too much from them next year. That worries me.
Especially when the pressure is on because they'll be playing before a huge Polsh fan base with heavy expectations. Also, the last meaningful game for a Polish side was back in qualifying for WC 2010. That's a long time to go without playing someone's A squad. Hopefully the players can handle the pressure and gain some experience for the 2014 WC qualifiers.
The fact that Dudka is still around means to me that he has still has something to offer. Let's hope for the best.

Dudka is a funny player, last year he had problems breaking into the first 11 this year he is starting all of the time for Auxurre. But, where does that leave him on the kadra? I like him as a replacement for Boenisch but Smuda likes him as a DM, I hope he continues to work hard gets minutes at the club and progresses well.
I hate going back to Smuda, but he said it before if you don't play for your club you don't play for our NT..Its very aggravating to see Obraniak not only play as a winger but also start for our NT when he averages 10-15 minutes a game with his club! Id much rather see Malecki/Peszko or even Grosicki put in work on the wing.
In the end, I would just like to see the same players work hard each friendly without any more experimenting. Hopefully Perquies will help the D, not interested in Arboleda anymore – who is also losing form fast.

@bigcmos
I don't know that I entirely agree with you on no club play, no team play. Reason I say that is, take a look at Kuba or Lewandowski. If they were still in the EK, I'm sure they'd be tearing it up there. The fact that they are in Dortmund where there is tougher competition for their positions, I can't hold against them entirely. So, even though they aren't starting every game and playing a maximum number of minutes (lately they've been sharing one slot on the team subbing in for eachother)I still feel they are two of the best that we have now.
Obraniak's situation just seems strange to me. They fight to extend his contract, and now they don't play him. I have no idea what the problem is, but it seems unfair to me.
I do agree that at this point we should know who the starting 11 will be next year. I don't mind making a few changes to the starting lineup for a friendly, particularly to cover for an injury or just to rest a player. But I feel there is hardly any consistancy in the lineups, and adding players to the mix like Perquis and Arboleda or whoever, just means that the merry-go-round will continue.
I've noticed that Dudka has always been shuffled around the field. I don't mind that, but it seems if Leo used him somewhere on the field then maybe Dudka should have a greater role with the team, especially if he is starting for Auxerre. I might start to consider him for captain. The experience both for club and country seem to dictate that he could handle it. Nothing against Kuba as a person or a player (though his fitness aggrivates me, doesn't seem to be able to go 90 minutes consistantly), but he just doesn't bring the intensity I'd like to see in a captain. He's too soft spoken. Then again, I've never heard Dudka in an interview.

A couple PK goals for Mariusz Lewandowski
http://babol.pl/kat,1025465,title,Mariusz-Lewandowski-znow-strzela,wid,13305398,wiadomosc.html
Posted from
United States

No more Arboleda after players speak out, and the evidence of the infamous finger poke.
http://www.polandsoccerblog.com/2011/04/smolareks-recent-red-card-was-provoked.html

Nobody wants Arboleda anymore, and the evidence of the famous finger poke.
http://www.polandsoccerblog.com/2011/04/smolareks-recent-red-card-was-provoked.html

sorry for the double post

Wow great we just lost Lukasz P. Iwanski and many more for match fixing. Nothings going right for the Polish National team at the moment.

I was never comfortable with Arboleda's antics anyway..making those crazy facial expressions and wild hand gestures anytime a ref checked on him. Kind of creepy.. Too bad we are tragically short on defenders. I would have probably reacted the same as Ebi.

does anyone have a link in english with all the names?
Posted from
United States

This whole match-fixing thing, is this fact or only a rumor?
If piszczek is facing jail time then that will mean his nt career is over! Hes been in my opinion our most consistent and best performing player over the last 18 months. I really hope this is not true. i cannot think of any other player who will be a suitable replacement on the right and his work with kuba down the wing has been one of the few positive things in the nt in recent memory
Posted from
Australia

http://sports.yahoo.com/soccer/news;_ylt=AnBTaQG00AEJSryWvkrUucAmw7YF?slug=ap-poland-corruptioncharges
its legit. i cant find any names though. suspended sentences.
Posted from
United States

You're the gearetst! JMHO
Posted from
Malaysia
Comments are closed