Polish Invasion On France. Dudka In Auxerre, Smolarek May Go To Toulouse.
June 26th, 2008 | by: tomasz |

Comments(3)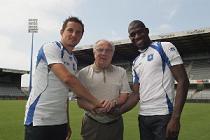 First big Polish transfer took place today; Wisla Krakow sold Dariusz Dudka to Auxerre for a reported fee of 2,5 M. Good bussiness for both clubs as Wisla made a lot of money and Auxerre received a young, but at the same time experienced player. Ebi Smolarek, on the other hand, is very close to signing for Toulouse.
Dudka was certain to leave Wisla this year and he finally did. Even though a lot of Serie A clubs were reported to be interested in him he chose Auxerre instead. A shame that we won't have a Polish player in Italy, but I think Dudka made a good choice. Serie A could be too competetive for him, whereas I'm almost sure that he'll win a starting place in France. Auxerre is not the richest of clubs and if they spend 2,5M on a player they must believe in him. Moreover, they've been scouting Dudka for more than a year now so it was a well thought through decision on their side. Another advantage of this transfer is the fact that Dudka is supposed to play as a defensive midfielder; a position that he currently occupies in the national team. As far as I'm concerned, he should stick to being a defensive midfielder as he's too mistake prone for playing in defense. Auxerre is well known for their symphathy for Polish football. Andrzej Szarmach, member of the famous Polish 1974 team, is a legend there. Pawel Janas, Zbigniew Kaczmarek and Tomasz Klos also had successful spells at the club. Some, like Marcin Kuzba and Piotr Wlodarczyk, are considered as transfer flops. Currently, Ireneusz Jelen plays for the club. After a great first season (10 goals in the league), he couldn't overcome injury problems last term. This time, injury free Jelen is expected to be one of the leading players for Auxerre. It seems that Polish fans will have to keep an eye on Guy Roux's club this season.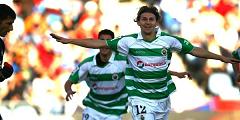 There is also a rumour that Ebi Smolarek will be sold to Toulouse. Even during the Euros we heard the news that Racing Santander is not satisfied with his performances and will try to find a buyer for him. Now Toulouse seems to be the most probable destination. I'm really disappointed that Ebi wasn't able to settle in Santander. I really love Primera Division and cherish an opportunity to watch a Polish player battling against the likes of Barcelona or Real Madrid. Unfortunately, Ebi didn't manage to live up to expectations. He was brought in as a potential star, but played worse than Mohammed Thite and Ivan Bolado. Racing wants to retrieve the money that they invested in Ebi, which is something around 5M. Can Toulouse afford it? I think they can, as long as they sell Johan Elmander. That would certainly be a step back in Ebi's career. At the same time, I prefer him to play week in week out in France rather than playing every 2-3 weeks in Spain. It's just a shame that, being a fan of Premiership and Primera Division, I can't experience a pleasure of watching Polish players perform on a big stage.
I'm going on holiday for four days, so I won't be able to publish anything fresh. Still, if you want to comment on something concerning Polish national team just do it here. See ya.
Subscribe

Poland World Cup Blog RSS Feed

Share
Comments are closed