Polanski Ready To Represent Poland.
July 6th, 2011 | by: tomasz |

Comments(44)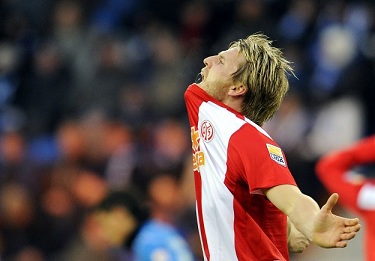 Though the transfer window officially started on the first of July, I didn't imagine that even our national team would acquire new players. Eugen Polanski, the former captain of the German youth team, decided to 'switch sides' and make himself available for Poland. Much to Franz Smuda's appreciation as our coach never hid that he's a big fan of Polanski's talent. The Mainz player should debut in the national team in September, maybe even in the game against Germany.
On the one hand, I'm very surprised with Polanski's decision, on the other hand, I really shouldn't have been. Approximately a year ago Polanski clearly ruled out any possibility of representing Poland. He said that Germany is his homeland and that he represented it for the most part of his career and he couldn't change the national team colours. Polanski was honest and I was glad that he didn't bluff and told Smuda to look somewhere else in a straightforward way. It was even a some kind of relief after the mystery and understatement that surrounded the possibility of calling up Laurent Koscielny. Smuda accepted Polanski's decision, but at the same time he left the door open for him if he changed his mind. Now, a year later, the Sosnowiec born player has grown to like the opportunity to play for Poland. It's been on the cards since last month when I read an interview in which Polanski stated that he sat on the fence regarding the national team decision. Well, there was really only one way that the matters could develop. After all, it's not like Polanski was anywhere close to being called up by Jorgen Loew. Now, a mere year before the Euros, he's finally ready to represent Poland. It's hard not to write that he's entering an already established team, a team of players that had to fight hard to achieve their current squad status. Polanski's motivation is the biggest question mark here. We know that it's not a matter of choosing between Germany and Poland, it's a matter of choosing between free time and Poland. Does Polanski want to honour his family like Ludo Obraniak does? Maybe his ambition doesn't enable him to let go of such a great sporting opportunity? Or maybe he just wants to promote himself on an international stage and sign a lucrative deal outside Mainz, which definitely isn't one of the richest German clubs. At the moment, Polanski is an enigma for me. He seems to be very down to earth in the interviews, doesn't tell colourful stories about why he wants to represent Poland, but is clear that he wants to do it (as he was clear a year ago that he didn't). He should expect a mixed reception in the beginning, especially after he initially rejected Smuda's offer. Some may also find it difficult that he makes no secret of the fact that he feels more German than Polish. However, judging from my experience, the discussion will die out after Polanski's initial games, especially if he proves useful. Just as it was with Emmanuel Olisadebe, Roger Guerreiro, Ludo Obraniak and Sebastian Boenisch. Now the latter three are serious candidates to partake in Euro 2012 and rarely anyone mentions their origins.
As far as his football skills are concerned, Polanski looks good enough to be included in the team. He plays on a defensive midfielder position and is responsible for distributing the ball from the back. Last season Polanski played in 28 games, 25 of which he started (in comparison, Adam Matuszczyk played in 24 games, but started only 16). He didn't score a single goal, but managed to achieve four assists. His average note in Kicker was 3,29, one of the highest in the team (Matuszczyk's average note was 3,59). Personally, I can't tell you much about Polanski's performances last season. However, I remember him from his stint at Getafe (2008/09 season) and he made an impression of a very organized and technically skillfull player. He didn't take unnecessary risk and tried to pass to the nearest unguarded teammate. I would describe him as better version of Arkadiusz Radomski. In the national team he'll have to compete with Dariusz Dudka, Rafał Murawski and Adam Matuszczyk. He may prove very useful if Dudka doesn't repeat his last season's form and Murawski continues to play average for Lech. Your thoughts on Polanski?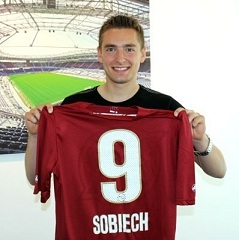 Other news: JW is energetically building a team to fight for the Polish championship. After he sold Adrian Mierzejewski, released Andreu and relegated Ebi Smolarek to the reserves, Wojciechowski decided to sell Artur Sobiech to Hannover 96. That's a great information for every party involved. JW gets back the cash he invested a year ago and gets rid of a banned player (though he would have sold him for a much better price if he hadn't banned him). Hannover gets the most talented Polish young striker for a moderate fee. Sobiech gets a chance to compete on a higher level and win himself a place in the Euro 2012 squad. His situation is similar to that of Mateusz Klich; if he plays regularly he will be included in the Euro squad. Hannover is a good place for Sobiech to develop, there is a competition for the place in the starting lineup, but not so harsh that Artur can't deal with it. His main advantages are self-confidence, intelligence on the field, a talent for one-two plays and good positioning in front of goal. He's been scoring goals everywhere he played so far. The only thing I fear is that he may not be dynamic enough for the Bundesliga. He also has an injury to deal with and will probably miss the beginning of the season preparations.
Other transfers: Kamil Kosowski (Apollon FC-GKS Bełchatów), Maciej Małkowski (GKS Bełchatów-Zagłębie Lubin), Mateusz Cetnarski (GKS Bełchatów-Śląsk Wrocław)
Emmanuel Olisadebe may return to the Polish league and play for Lechia Gdańsk if he's fit\good enough. Błażej Augustyn will most likely leave Catania and may move to Serie B's Torino. There are no further developments in possible transfers of Grzegorz Sandomierski, Ariel Borysiuk and Tomasz Kuszczak.
Subscribe

Poland World Cup Blog RSS Feed

Share
Comments

Its a shame how Jagellonia played. I thought they could have possible advanced to at least the 3rd round, but reading what you guys said it was bound to happen ever since the winter break Jag has been playing like shit and Grosicki leaving didnt help either, oh well just got to look forward and hope the other teams wont play as shit as Jagellonia.
@MarcinO, I completely agree with you, one hand Im happy that we have a pretty good player on a position that is isnt boasted with talent, but on another hand the guy just doesnt seem like a true Pole. Ya he was born there but he made it clear he feels more german, probably the only reason he joined was to gain exposure to move to a bigger club, a good thing for us but knowing he's playing for his own selfish reasons makes me somewhat dissapointed. But then again Im pretty sure he will help us out in a good way and help stabilize the midfield, he plays in a great league with a team that had a really good season last year. Still mixed on this decision but i think in the end it will help us in a good way.

We are by far one of the worst leagues in Europe bar known. Name me one country in the world with the population of almost 40 million with as bad teams us the Ek, go ahead I'm waiting name one? The MLS in America the league only being about 15 years old. The league is way better not even close. Any Pole that wants to play in the MLS don't go to Chicago you won't see the field.
Posted from
United States

it would be so much better if we could just use "trully Polish" players however it's important that we look good on the interantinal stage as it in many ways reflects upon the country. i say let him play! who knows maybe we will make it past the group stage this time.
Posted from
Canada

"truly Polish"? And how would you define that. I'm sorry, but the world we live in is a different world. Borders are open, people move. Not everyone has parents of one nationality. What if you don't like your country and want to move? What if you're forced to move? I don't get it. No other country seems to have this problem of "truly national" players as some of you do. This is a bit embarassig in my opinion. The crux of this team is and always will be Polish players. If it weren't for pressue to perform, these "mercenaries" as they have been called wouldn't have a chance. But most upsetting for me is this, if Poland were to win this Euro or a World Cup, the complaints would stop. As long as no rules are broken in terms of granting citizenship and obtaining a spot on a team, why should we shoot ourselves in the foot and field a "truly Polish" squad when our opponents will field the best 11?
Posted from
United States

the MLS is a joke msudzi. Krol went on loan to the Chicago Fire and started at left back for them all season long for them 2 years ago. It's a league of former college players who werent good enough to go pro straight out of secondary school, with some foreign big names brought in to arouse interest. I'd take a club like Lech, Legia, and Wisla over any MLS club any day, hell I'd even take Jaga.

Whoa easy msudzi ….. calling the Ekstraklasa the worst in the world – a little far fetched….Are we top 10 probably not but I dont think we are bottom feeders either.
What I know is that we are getting more competitive and better players are looking to use the EK as a jumping stone to bigger clubs. Plus it doesnt hurt that many Polish players are doing well in the World such as Peszko, Lewandowski, Zurawski(celtic) Kosowski, Boruc, Szczesny and so on…. the EK is becoming more respected but yes we do have out trip ups and unfortunately soccer is like american football on any given sunday anybody can win.
That is the beauty of the sport -remember Lech last year beating Man City – who had one player on their roster that was worth more than our whole entire club…to beat a team like that is incredible!
I believe that Wisla, Legia and Slask will do well in their European runs, I truly think so – Jaga has sucked and continued to suck too bad they had enough points left over to win that 3rd spot.
Posted from
Canada

the sort of nationalism that excludes and divides is the domain of the ignorant and short sighted. poland, in the past, took the best of other cultures and incorporated it into a cosmopolitan multi ethnic country. and that was the key to the golden age of the past. today, obviously, the times are different, but nonetheless, no one here is qualified to say whether someone else is polish or not, especially because we dont actually know the people in question.
Posted from
Germany

Hieronim the USA almost every time they play except for the World Cup in 2002 or 2006 whichever it was, and in that world cup they made it to the 2nd round anyway. What about that 6-0 loss in the under 19 world cup that gives you a little idea which country produces thier talent more. Krol hardly seen the pitch in Chicago what do you think he is doing in the 4th division in Germany for. No MSL champion whould have lost to Lithuania, Estonia, And Kav whatever stand and I think you know that, how can you defend the Ek the prove is in every year and every year, Poland's club teams are a whore house for other countries to say they bet a country with 38 million people. I mean they are losing to coutries that play their games at the local park. Please you have no legs to stand on defending the Ek.
Posted from
United States

Wow Sorry it sounds like I'm a Polish baser, I'm not I'm proud to be Polish-American. However are fans deserve a better effort those are things the players can control.
Posted from
United States

Wow Sorry it sounds like I'm a Polish baser, I'm not I'm proud to be Polish-American. However are fans deserve a better effort those are things the players can control.
Posted from
United States

Tomasz Frankowski: 2 goal in 17 matches,in MLS. At 36 yo, In the 2010/2011 season Frankowski has won the Polish Topscorer Title. I think that MLS is a low average soccer league but if it's true, I have a lot of questions about the performances of Tomasz in the EK…
We have a lot of good young talents but they need to play elsewhere to be at the international level.
Posted from
Canada

http://www.schwatzgelb.de/2011-07-06_editors-view_kuba-the-big-melancholic.html
what do you guys think about Kuba?
Greetings from Dortmund.

So with Gervihno off to Arsenal maybe Ludo can get back into the starting 11 at Lille again. If not then he should leave to greener pastures.
Posted from
United States

http://bleacherreport.com/articles/752679-ranking-the-top-20-defensive-midfielders-of-the-2010-2011-season#/articles/752679-ranking-the-top-20-defensive-midfielders-of-the-2010-2011-season/page/5
Polanski made the 17th spot

Just a reminder, tomorrow Wisla Krakow start of their Champions League campaign vs Skonto FC. The game will be played at 20:30 Poland time or 2:30 Pm CDN time. Let's hope for a great start, and forgot about the awful performances of the years past.
Posted from
Canada

Thanks bigcmos. Good to see Wisla won and the away goal. Hope they have a stronger win in Krakow.
Posted from
United States

Watched the game and sorry to say Wisla played terribly. First half they had a huge portion on possession and didn't know what to do with it (Wilk and Soboloewski didn't ever make attacking runs, so Wisla was always outnumbered in the box). Got a lucky own goal in that half though. And in the second when Skonto decided to attack, it was only a lack of finishing clear cut chances that kept Wisla in the game. I think they'll advance, but I don't have high hopes for them in the next round.

@Alek – Yes, Wisla did not play their best game, neither did they take full advantage of all their opportunities. This is their very first test since being on break, so it will take some time for us to gel properly. Especially, with two new faces playing we need to work as a unit. Speaking of the two new starters I was pleased with Iliev and Lamey's performances they did great!
Apart from a strong possession game, our crossing was off target and that is something that we need to improve especially when you have a team like Skonto sit back and defend with a bunch of players in the box. We needed to widen the field and throw balls in from the side, we did it but not with a lot of precision.
At the end of the day, we have a lot more class than the Latvian champion – while the only thing they have on us is match form as they are midway done their season and we have yet to start.
Today Slask meet Dundee, game time is 10:45AM EST time I really hope Slask shows us well! If your in Poland its an early game 14:45 kickoff!!!

Wisla struggled vs a 10 team from a small country, seems like I've heard this song before(jag). The team from latvia that plays their games at a local park started a forward from South Africa who has started 35 matches for 5 different clubs and has no goals or assists to speak of, that gives you an idea the pedigree of this team was. Most of the players are 6 months away from bagging grocories.
Posted from
United States

Good game by Slask; they definitely controlled the whole game. Though at the end, you could see them tired so conditioning is somewhat of a concern.
Anyways, it will be a good game next week.
Posted from
Canada

@msudzi – the 10 man squad happened in the last 10 minutes so they didn't struggle all game like Jaga, they controlled the whole game while Skonto sat back with 7 defenders – moreover the only chances for Skonto came with 2 mistakes from our defenders. 2nd leg will be wide open, and Wisla will score atleast 3 goals – Mark my words!
@Pelican Man – did you watch the entire game? Because Slask not only controlled the game but took it to them although had issues breaking through their defense. But, if you want to talk about conditioning Dundee were the ones running out of gas not Slask so I dont know where u got that?
End of the day – I hope for a nice draw tomorrow even for Legia who has some tough possible teams to face….and the 2nd legs should be good to go…

I agree with bigcoms Slask controlled almost the entire game. For the draws tomorrow
LEGIA- has a chance to play against
Hapoel Tel Aviv (Israel) – Rennes (France) – Levski Sofia (Bulgaria) – Vitoria Guimaraes (Portugal) – And the winner of FC Minsk (Belarus)- Gaziantepspor (Turkey) For me if they get Minsk, Gazian, Vitoria, or Sofia. They might have a good chance to pass.
SLASK- has a chance to play against
The Winner of the match Fulham (England)-Crusaders(Northern Ireland)*** 3-1 for Fulham first leg
PAOK (Greece) – The Winner of the match FH (Iceland)- Nacional (Portugal) ***Tied 1-1 – Brondby (Dennmark) The Winner of the match Metalurg Skopje (Macedonia)- Lovomotiv Sofia (Bulgaria) ***0-0 For me if they get Skopje, Sofia, Brondby,FH, or Crusaders. They might have a chance to pass.
WISLA- has a chance to play against
The winner of the matches- Mogren(Montenegro)— Litex Lovech(Bulgaria)*** 1-2
Slovan Bratislava (Slovakia)—Tobol Kostanay (Kasakstan)*** 2-0
Maribor(Slovenia)—F91 Dudelange(Luxemburg)*** 2-0
Bangor City(Wales)—HJK Helsinki(Finland)*** 0-3
Shamrock Rovers(Ireland)—Flora Tallin*** 1-0
I think these are all winnable games, but the hardest teams are probably Slovan, Litex, Maribor, and maybe even Tallin.

@bigcmos
I watched the first half, the first 10 min of the second half and the last ten minutes of the second half and you could see that they were gassed at the last 10 min. I know that Dundee were breathing heavy, but I was more worried about Slask. In the first half, they definitely should have scored a couple times on their opportunities. I do agree with you that they did have some trouble breaking through their defense.
Hopefully, they can hold on next week.
With Wisla, I hope they don't blow it.
Posted from
Canada

@Pelican Man – the away leg will be very tough, several years back Slask lost 7-2 in the final leg, and Orest lost his job. So, this is definitly a pay back for sure. I think we will be able to secure an away goal and move on…as for Wisla we will go on that is for sure.
Here are the results for the draw;
The 2011 UEFA lottery is so far a good one for our Polish squads. Many great teams were avoided but at this point in the game every team will be difficult to beat.
First, Legia Warszawa will play the winner of FC Minsk/Gazientenpspor. Both teams are quality opponents and Legia will have a great test, if I were to pick the team for them – I would like to see them match up with FC Minsk.
Wisla Krakow also knows their next rival if they progress, once they do advance they will play the winner of the two clubs – which are FC Mogren and Liteks Łowecz.
Finally, if Slask Wroclaw does get by Dundee they will either face Lokomotiv Sofia or FK Metalurg Skopje. Again, the favourable opponent here would be Metalurg- the good news is the first leg was a draw so anything can happen.
Next week will be a huge test for our clubs, who will need to put in great performances and advance to the next round.

Way to use the internet to help people solve pbrolmes!
Posted from
Japan
Comments are closed