Poland-France Preview And My Thoughts After The Argentina Game.
June 8th, 2011 | by: tomasz |

Comments(20)
Normally, the game against Argentina would govern my imagination for a long time. But it would have be a game against a real Argentinian team with Messi, Tevez, Aguero and Mascherano. The match in Warsaw that you watched on Sunday (and that I watched a replay of yesterday) was a one against Argentina C and therefore was treated as such by the fans, media and possibly even players on the pitch. Consequently, we haven't learned much about the state of the team a year before the Euros. There's hope that the encounter against France, which will use the players called up for the Euro qualifier, will tell us something more about our place in the European football. We need to stop playing friendly friendlies and start playing meaningful games.
This is what I learnt from the Sunday's game:
Advantages:
- the result. Even though we played against the absolute backup players of the Argentinian national team, a win is always a win. It's a result that gives confidence to the players and makes them believe that they are going in the good direction. Our opponents couldn't exactly be called a serious team, but they still had players from Sevilla, Villareal, FC Porto or Manchester City. If you ask me, it's better to play against Argentina C that the likes of Moldova or Georgia.
- Adrian Mierzejewski scored his first goal for the national team. So far it seemed that Mierzejewski isn't confident enough in national team colours; this goal should help him take more responsibility for the way we play. Adrian has just become the MVP of the Ekstraklasa and he'll probably play a very important role for us next year.
- the Dormund trio. They are the real leaders of the team, play like players should on international level. I think they matured and became even more confident of their skills after winning the championship title in Germany. They are also well prepared in physical terms. The right wing and Robert Lewandowski are the strongest points of our team.
- Paweł Brożek's finishing. Ice cold finish from Brożek showed that he may be useful to the national team, at least in the joker role. Especially when you compare his composure to Kamil Grosicki's lack of effectiveness in front of goal.
- Jakub Wawrzyniak. I'm not a big fan of the Legia player, but he looked better and more natural at left back than Maciej Sadlok or Dariusz Dudka. Wawrzyniak won himself a right to be tested againt France.
Disadvatages:
- the game was a picnic; we fought against players who played together for the first time in their lifes. Moreover, since everybody new about the status of the Argentinian team. not a lot of fans decided to visit the stadium and the atmosphere didn't recall a serious football match in one bit. The initial high ticket prices didn't help either.
- Smuda's reluctance to bring the subs on the field a bit earlier. Guys like Szymon Pawłowski, Grzegorz Krychowiak or Cezary Wilk probably have a chance to represent Poland next year, but we still haven't learnt about how they play in national team colours against a bit more serious opponent.
- Kamil Grosicki. A player starting for Poland can't waste as many chances as Grosik did. The serious competition at Euros won't forgive so many wasted opportunities.
- the central defensive pairing still looks extremely shaky. Especially Tomasz Jodłowiec doesn't look agile enough to compete on international level.
- Rafał Murawski's fitness. As long as Muraś had the strength he played quite well. However, in the second half it looked like he was already too tired to keep up. We need Muraś ready to work hard for 90 minutes during the Euros.
Now for the France game. This will be a much more serious encounter. First of all, the French team is one of the strongest in Europe at the moment. Laurent Blanc brought back the positive atmosphere to the team and created a dangerous mixture of youth and experience. There are already established players in the squad, like Evra, Abidal or Benzema, but there are youngsters who have great careers in front of them like Gameiro, M'Villa or or Cabaye. This team defeated Ukraine 4-1 at the weekend after goals two goals form Socheaux's Marvin Martin, and single ones from Gameiro and Kaboul. Blanc rotates the players so it's hard to expect which stars he'll use against Poland. It's possible that the ones who were benched against Ukraine will get their chance against the Biało Czerwoni from the first minute.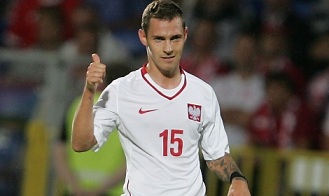 As for Poland, there aren't many changes expected in the starting lineup. This will be the most serious test for Smuda this year and he'll make sure to play the strongest possible lineup. The only certain change is the inclusion of Ludovic Obraniak, who didn't play againt Argentina because he joined the team only a day earlier due to having his first baby born. Against his first homeland, Ludo will play instead of Kamil Grosicki, who was less convincing than Adrian Mierzejewski in the last game. Other possible change may occur in the defensive line. Smuda is thinking of replacing either Grzegorz Wojtkowiak or Tomasz Jodłowiec with Kamil Glik. I'd prefer that Smuda keeps Wojtkowiak on the field as I view him as a much safer defender than his two rivals.
This can be a game that will finally give us some answers. We play against a good team, whose coach should make sure that his players aren't complacent. We'll play in front of a sell out crowd at perfect time for a good spectacle. It's hard to imagine much better friendly conditions before the Euros.
Poland-France (Warsaw, 21:00 CET)
Poland: Wojciech Szczęsny – Jakub Wawrzyniak, Tomasz Jodłowiec (Kamil Glik), Grzegorz Wojtkowiak (Kamil Glik), Łukasz Piszczek – Rafał Murawski (Adam Matuszczyk), Dariusz Dudka – Jakub Błaszczykowski, Ludovic Obraniak, Adrian Mierzejewski (Kamil Grosicki) – Robert Lewandowski
Ps: I know that the fequency of posting was very low lately, I've just returned from two wekk holidays. I'll try to improve that. I work as a teacher and since my younger students will start holidays at the end of June I'll have more time to blog then. You can, of course, expect a detailed review of the France friendly.
Subscribe

Poland World Cup Blog RSS Feed

Share
Comments

Great post tomasz im looking forward to the france game as this will real test our squad and see where we are.

yeah, lets see what we are actually worth!
Posted from
Canada

I will cry if Kamil Glik starts the game against France. That is a disaster waiting to happen. We will be doomed.
Warzyniak did look great against Argentina C, at least offensively. I expect he'll have to defend a lot more against the French, especially if Ribery is out on the right wing.
I have a feeling Murawski is going to get absolutely bossed in the midfield by the French, most of their central midfield players are pretty big or strong. Hopefully Krychowiak will be given a go for at least a whole half.
Looking forward to the game, hope it's an enjoyable one!

Ya even though this was Argentina's C squad they still had players playing for big clubs plus they had a couple regulars like Zabaleta playing. I have noticed that Poland improved a lot with the short passes and technical ability, which ill give them credit for. There were some moments where I was really impressed with some plays leading to the oppositions net but some shaky moments as well. Oh well, this will help us improve in the world rankings and is a confidence booster. Hope we can impress against the french.
I think if Murawski plays like he did last game then Matuszczyk should come on at halftime.
Btw, does anybody know when Boneisch is supposed to return? and whats the status with Jelen?

@hieronim – Im totally with you on the GLIK topic, he is public enemy number 1 for me. The most inconsistent, slow, technically and positionally challenged player we have. I guess Smuda sees that he has good days and believes he can play at this level. Let him mature some more still very young, but ATM does not belong on our NT.
If he does play I have a horrible feeling for the game, with GLIK 5-1 without GLIK 2-1 for France. My optimistic prediction 2-2.

Yeah, Murawski has had problems since his comeback move to Lech. He didn't have time to work hard at the beginning of the year and now it shows in his fitness. He may still catch up physically during the summer. If he doesn't I'd prefer the pairing of Dudka and Matuszczyk.

Boenisch got off crutches about a day before the article dated 23.05.2011 at http://www.werder.de/en/aktuell/news/33439.php He said he lost a lot of muscle mass from being inactive. With his physical therapy/ strengthening, not sure what that means the timing of his return.
Posted from
United States

hey guys i need help. where can i watch this game? it would seem that meczyki.pl dosent have it today!
Posted from
Canada

@mike –
http://www.myp2p.eu/broadcast.php?matchid=119116&part=sports
http://www.stopstream.tv/ch1.html
The last one is always world class, if not try the options on the first link.

thanks alot bigcmos!
Posted from
Canada

you guys can try TVP.pl transmisje !

http://www.atdhe.ws/ has LOTS of options too, various languages, and stream quality
Posted from
Canada

Have to say so far up to the half way mark I'm impressed with the majority of what I see. Our defence is clueless and we desperately need two centre backs but our pressing and attacking is positive
Posted from
Poland

I'm totally bugged out at the fact that it's the 70th minute and we've yet to sub while our central midfielders look exhausted. Murawski has been miserable the entire match and looks like he's about to suffer from an MI on the pitch and we won't substitute.

Completely agree, Murawski is giving sloppy passes, not closing down and his first touch is terrible.
I'd have subbed him at half time for Matuszczyk,
The other weak links tonight were Dudka and Wawrzyniak who once again have the touch of a rapist and also give the ball away far too much and then the chump who scored the own goal. He was far out of his depth.
After this match I'd really like to see Arbeloa get a call up, I was hopefull of Polish born and bread but at the end of the day the difference between the two teams tonight was the Defence. Going forward we can cause anyone trouble. Obraniak was quality today his best game so far for us and Kuba was top class.
Cant help but feel Lewandowski is a bigger threat from the edge of the box than he is in it.
Posted from
Poland

Oh and Szczesny's header!!!!! Absolutely amazing! He was amazing tonight, couldn't do anything about the goal he had it covered untill Jodlowiec decided to put a pointless weak deft head on the ball when he could probabl have kicked it it was so low.
Posted from
Poland

ok so 0-1 result isn't that bad and at times there were some very good things happening for us.
Szczesny was fantastic. Jodlowiec was really unfortunate to get that own goal as it was a dangerous ball with many bodies in the area but it looked like Wojtek had it covered. Throughout the game there were times when both Wojtkowiak and Jodlowiec got beat but I thought they were dynamic enough. I guess most people think Perquis and a healthy Glowacki would be starting, but it's good that those two could have some experience playing a good side together. Other than a couple lapses I don't find any real issue with the center backs. Piszczek and Warzyniak were good both in defense and going forward, not a lot of dangerous crosses were sent in.
The midfield started well. I was actually impressed with how Murawski started; he was aggressive and fighting hard on the ball. Dudka was very proactive in helping out the back four and distributing the ball. But from like 50th minute onward they were absolutely dead. Couldn't pressure well, didn't get forward, started tackling very poorly. Smuda should have thrown on Matuszczyk and Krychowiak or Wilk in the middle earlier in the 2nd half. The wide and attacking players were all pretty good, very nice combos at times and good aggression. They also got tired though, should have seen subs earlier.
Lewy was fine, starved for service in the box but held up the ball ok and was essential to our pressuring in the first half. He definitely could have benefited from having another attacking player working with him higher up the pitch for more of the game.
Too bad we lost, a draw would have been fair, but players didn't have finishing quality today.
Posted from
United States

Smuda needs to get fired. What if some of our players get injuries before Euros? Krychowiak could very well be an asset next year when he moves to Ligue 1 following a season in which he was voted his team's best player even though a DM usually doesn't get much attention. In fact he could have been an asset already given how awful Murawski was. But of course Smuda has to be a stubborn ass and refuse to let him develop chemistry with our players.
Posted from
Canada

I'm a French supporter, and I have to say that the Polish team offered us one of the toughest games we've had this year. Congratulations to them, and to the Polish supporters who were great too (never seen an anthem being applaused by supporters of the other team before – that was touching!).
Too bad the scoring was open by an own goal, but I believe that France has made a better match than Poland in the 2nd half, and thus that the winn isn't undeserved.
Anyway it's a real joy to play against a team that wants to win, and I think Poland would be a very tough opponent in the upcoming European cup. So best wishes to Poland!

Thank you, Valentin. Good luck to France as well, who looks like they've shaken off the chaos of 2010. It's good to see our supporters recognize your nation and applaud the anthem, as our own hymn references your people during our quest to reclaim our sovereign state: "Bonaparte showed us how to fight".
Comments are closed