Poland-France 0:1. Ambition Is Not Enough When Smuda Doesn't Help The Team.
June 10th, 2011 | by: tomasz |

Comments(20)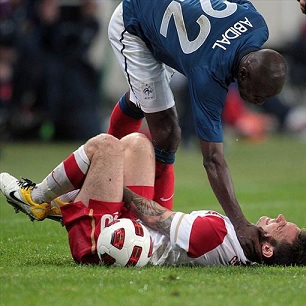 0:1 against France is always better than 0:6 against Spain. We've made progress during the last year, but in all honesty we started from a really low level. The players gave their all and played to the best of their abilities. The 'problem' is that the French players took the game seriously and they are more skillful. In such encounters we need well designed tactics and help from the bench to earn a good result. Franz Smuda failed to provide either of them.

Poland-France 0:1 (Charles N'Zogbia 12′)
Poland: Wojciech Szczęsny – Łukasz Piszczek, Grzegorz Wojtkowiak, Tomasz Jodłowiec, Jakub Wawrzyniak – Jakub Błaszczykowski (87′ Paweł Brożek), Rafał Murawski, Dariusz Dudka, Adrian Mierzejewski (79′ Adam Matuszczyk) – Ludovic Obraniak (88′ Szymon Pawłowski) – Robert Lewandowski
Summary: Finally, we had a game that recalled a serious international encounter where points are at stake. Kudos to the French team for coming on an unofficial date and putting their best possible performance. Laurent Blanc has got a great effect on his team; blase players are replaced with young wolves hungry for fresh blood. It's clear that those French players will follow their coach into fire. Can the same be said about Franz Smuda? Not exactly. Rumours are circulating that the players are unhappy with the strategy that Franz is proposing, playing out of position and that they want a more organized tactical plan. Nevertheless, playing against Smuda was out of the question. The Biało Czerwoni gave their all, played to the best of their abilities and tried to squeeze the most out of Smuda's tactical plan. Sadly, this all wasn't enough to even earn a draw against France since the difference in skills and the culture of play was too vast. We played a typical Smuda style: tried to keep possession for as long as possible, sped up our game when we approached the French goal and tried to employ high pressing. It's visible that the players feel more and more comfortable in this strategy, but it's also visible that it has very serious shortcomings. First of all, our keeping of possession is not effective. The defenders exchanged passes very often, but only Łukasz Piszczek was able to play a forward pass and start an offensive move. Wojtkowiak and Jodłowiec tried some long, direct passes, but majority of them were intercepted by the French. Jakub Wawrzyniak only played backward passes. That's why either Dariusz Dudka or Rafał Murawski played close to the defensive line. They picked up the ball and tried a quick, diagonal pass in the direction of the offensive players. This was effective only when the French didn't employ pressing; when they did, a lot of passes, especially Dudka's, were intercepted by our opponents. The pressing as well didn't work as Smuda imagined. During the first quarter of an hour we tried the high pressing and even recovered the ball on a couple of occassions, but the French quickly grew accustomed to it and had no problems to find a free player to pass the ball to. The ineffectiveness of our pressing strategy was especially visible in the first fifteen minutes of the second half when we couldn't get hold of the ball for a longer moment. Technically skilled teams, like France or Spain, have absolutely no problems to keep possession in the games against us. The next problem is our offensive display. Even when we've got an occassion to cross there's only Robert Lewandowski available in the penalty box and he's covered by at least two defenders. Ludo Obraniak, who should join Lewy in the box, was too often preoccupied with distributing the ball and wasn't fast enough to enter the box. Moreover, he's not a typical striker and therefore feels more comfortable outside the penalty area. Another factor that weakened our offense is the fact that neither Dudka, nor Murawski ran into the French defensive line. Le Bleus were happy to guard Lewandowski and had no surprise runs to deal with. In 4-2-3-1 strategy one of the defensive midfielders should run into the penalty box when the ball is on the wing, Dudka and Muraś preferred to keep away from shooting opportunities. The major offensive problem is that we can move the ball to the wing, but then don't have enough players available for the cross. Finally, players were too inaccurate on the French half, especially when trying the decisive, key passes. This is caused by the shortcomings in the skills department and the fact that some of the players are not used to such a high tempo of a game.
These are the tactical problems that should be dealt with by Franz Smuda. Unfortunately, it's hard to believe that our coach will do that as he seems satisfied with the way we play. The best proof for that is his reluctance to make any substitutions, even when the game was getting away from us and the players were tired. Ludo Obraniak could have been easily replaced after the first half as he couldn't find himself in the game before the break. Then in the 60th minute, if only Smuda observed that we don't have enough players in the box, Paweł Brożek or another offensive player (Grosicki, Kucharczyk, Pawłowski) should have been brough on. It was also clear that Rafał Murawski doesn't have the energy to run after the French midfielders for 90 minutes. We lost control of the midfield at the beginning of the second half and this was the time to bring on a fresh central midfielder. Smuda waited till the 79th minute to introduce Adam Matuszczyk and, what's worse, he brough him on for the offensive minded Adrian Mierzejewski. Brożek and Pawłowski had the 'impressive' five minutes to change the course of the game, that's not enough time to make a real impact on the game. My point is that Smuda doesn't read the game well. He chooses the starting lineup correctly, but then is too reluctant to make any changes if his chosen players don't come up with the goods. On the one hand, it's good for the players to feel the coach's trust, but on the other hand Smuda's being too stubborn doesn't help the team. What's more, what can we say about Kucharczyk, Pawłowski or Klich if neither of them got more than tean minutes of playing time during the two games. Not to mention the likes of Cezary Wilk or Grzegorz Krychowiak who weren't on the field even for a single minute. Irritation must be high among the substitutes.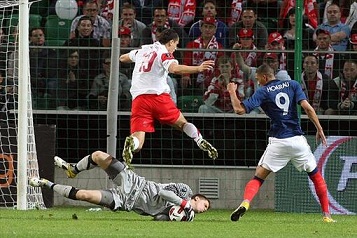 Player ratings (1-10):
Wojciech Szczęsny 8: a very good and confident performance. Saved everything he had to save and won a one on one duel with Hoarau. Has the character to play the Artur Boruc role (read: save our asses) in the 2012 tournament.
Łukasz Piszczek 7: everytime we had the ball on the right wing Piszczek ran forward and made himself available for the pass. Great speed and stamina, good cooperation with Kuba Błaszczykowski. Not bad in defense, next time his crosses should be more accurate.
Tomasz Jodłowiec 4: his unlucky deflection of N'Zogbia's shot caused the French goal. Had both good moments and clean intervention, but at times he had problems to keep up and his first touch fails him too often. Not good enough in ball distribution.
Grzegorz Wojtkowiak 5: a bit more confident and safer than Jodłowiec. However, his ball distibution when we need a forward pass also isn't good enough.
Jakub Wawrzyniak 4: his main goal was not to make any mistakes. Hence he only passed the ball backwards to Szczęsny or the central defenders. After some time it became irritating. Only one offensive run, a poor result when compared to Piszczek.
Rafał Murawski 5: just as against Argentina, he didn't play bad as long as he had the strength to run after the opponents and ask for the ball while in possession. Completely lost in the beginning of the second half when he couldn't compete with the French midfielders. Has huge problems with accuracy under pressure when he's tired.
Dariusz Dudka 5: played 'his' game, to the best of his abilities. Won possession on a couple of occassions, passed the ball to the nearest teammate. Just don't expect him to play some opening, diagonal passes.
Adian Mierzejewski 6: very active on the left wing, where he competed against the powerful Bacary Sagna. Had some good crosses and good dribbles, but there weren't enough players in the box to meet them. Better and more confident with each single game.
Jakub Błaszczykowski 6: drives our game forward together with Piszczek on the right wing. tries very hard to be the leader of the team. Able to trick the opponents with one single move, but doesnt run past opponents often enough.
Ludovic Obraniak 5: overmotivated, though active, he wasn't accurate enough in the first half. His set pieces also weren't as dangerous as usual. Played a lot better in our last offensive rush forward in the dying minutes of the game.
Robert Lewandowski 6: the most dangerous and the most guarded Polish player. Covered by at least two french players at all times. One good shot from outside the penalty box, and one header saved on the goalline by the French defender.
Adam Matuszczyk 5: brought on to play in the more offensive role, should stick to the central midfielder one.
Paweł Brożek, Szymon Pawłowski: didn't play long enough, but managed to add some spark to our attacks. Brożek showed that he may be useful when we need to keep the ball upfront.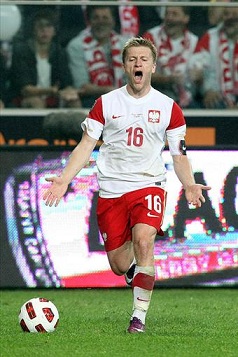 Conclusions:
- we have players who can win every other game against average teams. To win, or play on equal terms, against superior opponents they need some help from the bench. At the moment, it looks like our strategy isn't refined enough to pose any threat to serious opponents. What worked for Smuda in the Ekstraklasa isn't enough on the international stage.
- Smuda's reluctance to substitute players is growing more and more irritating. He has no idea how to influence the game from the bench when the team is in crisis, or just has no confidence in his substitutes. But why did he call them up then?
- I think we've got at least six-seven players who, provided there are no injuries, will be a part of the starting lineup during the Euros. Szczęsny, Piszczek, Błaszczykowski, Mierzejewski, Obraniak and Lewandowski are Smuda's chosen ones. Murawski and Dudka are also very close to the starting lineup, but the have to fence off the competiton from Adam Matuszczyk, who may still improve his place in the pecking order. The central defenders and Wawrzyniak seem to be backup options at best, Smuda is waiting for Boenish and Głowacki to get fit and for Perquis to get the citizenship.
- Adrian Mierzejewski did his best on the left wing, but had no support from Wawrzyniak. Therefore the right wing is much much stronger than the left one and our strategy is too easy to read for our opponents. The French attacked on the left side very often in order to tire our Dortmund duo. We need healthy Boenish as soon as possible to balance the wings.
The players have the ambition and the majority of them have the skills to compete in the Euros. It seems that at the moment the manager and his style of running the team is the biggest problem for the Biało Czerwoni. As much as one can't criticise Smuda's choice of players (apart from the conflict with Boruc and not giving a chance to Małecki), his instructions for them leave much to be desired. Either Smuda changes something in his tactics and stops being so stubborn, or we'll have no chances to compete against the serious European opponents.
Highlights:
Subscribe

Poland World Cup Blog RSS Feed

Share
Comments

I watched the last half hour and we looked like a good old Polish nt. I mean not very much team quality but a lot of ambition and energy to try and change a bad result. This way used to bring us an occasional success and with a little bit of luck we could have got something out of it this time too. So it was antoher 'noble defeat' for us. I don't really expect more from our team in the euros, advancing from the group stage is rather unlikely. I only wish that in the end we can say that we had a decent go even at the stronger teams. And this we did yesterday.
And yea, the French took this game seriously, which is great in terms of preparations and improving our play. I didn't feel the game was a friendly. Hopefully, we'll have a few more like this one so when it comes to the real deal, our guys won't shit themselves.

Definitely also frustrated with Smuda's lack of belief in substitutes and adapting strategies during a game. I can't help but think back to the row Smuda had with Majewski, who by the way would be a perfect player to play alongside Dudka, Matuszczyk, Krychowiak, or Murawski as a deep lying playmaker who could actually distribute the ball in a fantastic manner. He really is perfect for linking the defense/midfield to attack. After every game it is clear to me that he could highly benefit our team.
@ tomasz- you mention that the ball distribution was poor from our center backs and holding midfielders. I was forced to watch some of the game on an American espn feed, and although I find the commentators to be idiots on espn US some of them were continually criticizing the lack of movement from our forward players in becoming available for passes. Did you think that the issue was more of our attacking players being static, poor distribution, or a combination of both?

Great analysis Thomasz. I only slightly disagree with your opinion of Wawrzyniak. I believe he has the ability to be above-average amongst our defenders if only provided with the right direction/coaching.
I also believe this game proved two things.
1. Lewy should not be put upfront alone ever again. He always does better when a second striker is with him. Even the Polish commentators remarked positively on the lewy-brozek chemistry. I think it is a confidence booster for him when some of the pressure to score is shared and not just put only on him.
2. Smuda…. his tunnel-vision and inflexible nature is handi-capping the team.
As an analogy..a great military General is made so most of all by his ability to react to changing conditions on the battlefield.
Our guys were outpaced, tired, and we were losing. France re-freshes half it's team with subs which stacks the odds even more aginst us and Smuda does: nothing..
That is the core of the problem here. A great leader also inspires loyalty by his actions and that is missing here as well.
To add to that, he finally decides to sub in the last few minutes which is bewildering and extremely irritating to the players and to the fans.
We won't always agree with a coaches' decisions, but it has been largely a frustrating and ridiculous experience with smuda so far.
Raise your hand if more than once you've wanted to buy a plane ticket to go to Poland just to give smuda a kick in the "dupa" to wake him up.

I like the J's idea to try out two forwards.
Our central midfield in terms of playmaking doesn't work. If we don't have a decent deep-lying playmaker, let's focus our distribution on both wings, as our nt usually have done. With two attackers to target in the box instead of only one, our crosses will be twice more likely to be efficient. So will long balls from our defence. If we can't really play short passing game, an offensive playmaker is not so much needed because he will hardly see the ball anyway. And the second striker (who can be Brożek, Lewy or anyone) may always – if needed – drop deeper to pick up the ball or press rival's DM.
As for the playmaker to partner Dudka, I thought Murawski could do the job but it seems he simply hasn't got enough quality to distribute the ball all by himself. Majewski has the characteristics but is he even getting any minutes in the Forest?

i thought the game was good for our standards however what pissed me off is that we dont play another striker ahead of lewy as he is much more valuble staying back a bit….looks like many others share this view.
further i have not made up my mind about Jadlowiec yet however if i see Dudka and Wawrzyniak in the euros i will fucking cry.
Posted from
Canada

I'm no particular fan of Smuda, but some of this analysis seems unbalanced.
The high pressing game worked well in the first half, where most of the play was in the French half. this is an achievement when you consider the quality of the players at each managers disposal. For long periods Poland were taking the game to France and winning the ball high up the pitch.
It is true not enough good chances were created – but that is the reality against the best sides in the world. 1 excellent oportunity (straight after France's goal) when Piszczek was free breaking on goal from the right should have been enough for 1-1 had he kept his head and drawn the defender before passing. Such is the small detail of difference between a good 1-1 draw and a dissapointing defeat.
In the 2nd half yes changes could have been made earlier, but as we all know, with the exception of the defence, the starting line up was close to what will be in place next summer and has had little playing time together. None of the subs on the Poland bench were game changers in a match of that quality, so why not stick with the players you know will start for you when it really matters.
We should be careful of overating the resources available to Smuda. If Perquis and Boenisch can be added to the squad by next summer – and no injuries occur to key players – I think 4 points from the group stage is a realistic target.

@Tomasz, this statement is perfect "The defenders exchanged passes very often, but only Łukasz Piszczek was able to play a forward pass and start an offensive move." However I disagree with your assessment of Obraniak, I thought he played well, got stuck in and chased everything, in my oppinion he was one of our better players.
@Hieronim, The movement is there from the attackers its just our defenders dont have the ability or trust in their ability to find these passes. If there was no movement how come Piszczek was able to do it throughout the game?
@J. Wawrzyniak is definitely not above average, he is one of the weak links in our line up, his first touch is terrible and his concentration is shit, thats why he's so slow to react and help out on the wing or why he gets caught out so often, he doesn't notice what's going on around him. But I do agree with you that we should have someone helping Lewy up front, Brozek would need to prove his worth though if he wants to fill that role. By having a more complete all around game and not getting lost in matches would be a good way to prove he is the man for this, He's a better finisher than Lewy from inside the box but Lewy is a bigger threat in build ups and from the edge of the box. I know who I would sooner see the ball fall to in the penalty area put it that way.
I would sooner have Matuszczyk playing than Murawski, he has the stamina and ability to get forward more often and would be a better presence going forward to help in attack. Also we could have benefited from Majewski in the squad, bring him on as a sub for Obraniak or even Murawski.
Anyway I was impressed with what we showed, when I think of what might have been if we had 2 decent centre backs and Boesnich in the team then it could very easily have been a better result for us, we competed with one of the best in Europe and with these positions filled we could quite realistically been talking about a victory today
Posted from
Poland

the team needs to play either 4-4-2 or 4-4-1-1.
otherwise, it will always be playing for a tie or for a miracle goal off a counter.
i hate smuda. his decision making is terrible. he decided to let some scrub polish keeper get hung out to dry a few games ago and yesterday he left our starters hung out to dry as well. subs in the last 5 minutes is plain ridiculous. at least two subs should have been inserted at the 70 minute mark. the defense, minus szcesny, is swiss cheese. france was carving them up, and poland defenders were attempting to utilizing kamikaze tactics. pretty pathetic.
Posted from
United States

@gregorio
I can see that years of disappointment left their mark on you, your expectations are very low. Mine aren't too high as well, but I can see this team being better and I'm irritated that it's not going in the right direction. We've got Arsenal's starting keeper, three German champions, French champion, guys from top Turkish club and some talented Ekstraklasa players. Ambition alone is not enough for me.
@Hieronim
I think movement upfront was there, especially in the opening twenty minutes. None of the offensive players, Lewy, Kuba, Ludo and Mierzejewski, were shy to ask for the ball. It's just that communication sometimes failed them.
@J
I totally agree about the subs. As for Brożek, I don't see him as a player for the starting lineup. If we were to play two guys upfront I'd go for Jeleń, whose speed may enable him to reach Lewy's passes. Brożek proved, especially against Argentina, that he can be an impact sub. If he holds his ground next season at Trabzonspor and gets some experience in the CL he'll be a really valuable player to the national team.
@Mike
You'll be pissed because Dudka has won himself a place in the team with his latest performances. He had a good year and should be an important player at Auxerre next season. I only hope that Matuszczyk will develope enough to be a better option.
@Chris
I have no problems with sticking to the same players when the team performs great. However, we had problems in the second half, individual players and as a team, and Smuda didn't help to overcome them. When we stick to the same players all the time we devoid ourselves of the surprise factor. Finally, we have no guarantee that there won't be any injuries before the Euros. It may be hard for a substitute player to come into the team then.
@Wejher
I expect more from Ludo, he wasn't involved enough in the game in the first half. As for muraś, I'd wait for another Ekstraklasa season. If he continues to perform as in the first half of 2011 then he should lose his place in the starting lineup.
@Tommy
Smuda will only change his strategy if Jeleń has a great season. If not, he isn't convinced by any striker enough to make changes.
Posted from
Poland

Great article tomasz,
Personally i think Poland improved a lot since the thrashing from Spain last year. I noticed that passes are getting better and overall play is better. i like this style of play that smuda IS TRYING to implement but he has a shit load of glitches in between. Like as mentioned why not give players on te bench a chance to shine and show what they have? I think if Matuszczyk, who is a really good player, came on earlier then things wouldve improved and why didnt smuda bring on Brozek? Krychowiak? God knows.
It frustrates me seeing that Poland at the moment has a really good bunch of players, but the coach is getting in the way of something that could be great. A 4-4-2 would be great, jelen with lewandowski would be a deadly combo at least in the view, and a overall balanced midfiled would do us wondders.
Once again defence fucked us over, i think wojtkowiak is a good backup option, Jodlowiec is fuckin brutal in my opinion, he shouldnt even be called up but since we dont have anyone else then i guess he needs to be there. Wawrzyniak considering he never had never played an international game before wasnt to bad, i noticed he was just playing it safe and trying not to be a fuck up, when u one day cover against some crappy player in the EK to the next day covering n'zogbia there will be mistakes.
I cant help but imagine how Poland would play if we had Boenisch, Glowacki, Perquis and Jelen in the line up, then things may be different. I hope all of them will be back soon. Overall i like that Poland did improve and i see what Smuda is trying to implicate, its a very hard tactic but effective, but we need more time to learn this new style, and the fact that smuda is stubborn as a donkey and wont bring on subs doesnt help.
Anyway, good match, i hope we can play more games like this, not against teams like Georgia where we arent gonna be prepared.
Cheers

Go Polska
Silver can preserve your wealth. Go to gosilvercoins.com for fair prices and free fast shipping on Silver coins and also an interesting blog
Go Polska
Posted from
United States

I have a 1kg silver coin ;P

IMO Smuda was "coaching" to save his job. He was to defensive, after beating the Argentina "C" team he wanted to keep the score against France "C" team as close as possible so it would give the impression of improvement. Poland put out their best available players & still lost to the French "C" team. To me this is not improvement but moving the chairs around on the Titanic.
If the score was 3:0 or 4:0 then there would be screaming to fire Smuda. But at 1:0 everybody is happy because it was not 6:0.
Smuda is coaching like he is afraid. A confident coach would sub at least 3 player (6 subs are allowed in friendlies) before the 70th minute in both games because there is no guarantee the same 11 will be avaible 1 year from now. We must have at least 18 confident starters not 11. This tactic of not subbing is good for 2 or 3 games before 2012 not a year away.
Who thought 6 months ago Mierzejewski would be a serious starter. This team does not have a set 11, so why is Smuda playing them like they are.

@JZ
Actually it wasnt frances "c" team as u call it, it was pretty much there A team just not including ribery and nasri.

I would say France's B team, as they fielded a few younger, less experienced national players, I believe for a few it was their first game for France, at least from what I read.

@ Timmy
Warzyniak actually played quite a bit of left back on the NT when Leo was coach, he started against Croatia in the Euros and I remember him playing well before he went off injured against the Czechs in WC 2010 qualifying. He is definitely our best back up option at LB, against France he got lucky he didn't have to deal with Ribery or Nasri, but he held his own against Sagna for the most part.
@ tomasz
I thought that in the attacking third our players were becoming a bit static, especially in the 2nd half. There was a complete lack of penetration, both through passes, runs, and dribbling. The low shot count is reflective of that. Most of our good offensive action came from breaks and counters, with the exception of 3 or 4 instances of prolonged pressure.
A lot of people on here seem to be pretty confident in Glowacki, I'm not sure that that confidence is well placed. If you think Wojtkowiak and Jodlowiec's distribution is poor, I remember in the Norway match Glowacki was pointlessly hoofing balls upfield. And of course most importantly he is never healthy. NEVER.
Posted from
United States

@ Timmy
I would hardly call the French starting line up against Poland their "A" team.
When a NT plays a game for real points like a qualifier against Belarus I would consider that line up the "A" team.
France line up against Belarus (Euro qualifier game)
Benzema
Ribery Nasri Malouda
A.Diarra Diaby
Abidal Sakho Rami Sagna
Lloris
France line up against Poland
Hoarau (27 yr old striker with 5 caps)
Valbuena Martin Cabaye N'Zogbia
A.Diarra
Evra Abidal Kaboul Sagna
Carrasso(career NT 3rd stringer 1st cap vs Poland)
Only 3 starters from the Belarus game. Due to an injury to Kaboul – Rami started the second half.
Their "B/C" team was talented no doubt but they are not the players the coach counts on for points.

I'm not disbuting comments about France NT, one way or another, but I think, since their problems at the 2010 WC, they are still looking, evaluating, and developing their "A" team. But certainly the non-friendlies must give a better idea about where the coaches confidence is currently strongest.
Posted from
United States

To say that isn't an "A" squad or at least a mix of their starting XI for 2012 demonstrates a lack of understanding of French football. Several of those players will be in their starting XI, and it's possible some from the Belarus game will not be whether due to form or injury. There's several French players who weren't called up due to form this season, who's to say Gourcuff doesn't make a comeback next season? With the exception of the keeper, those players are all within France's top 15 footballers at the moment.

@ Casimir -
Thanks for clarifying – so if the Polish NT started Piszczek,Lewandowski,Kuba,Obraniak & a bunch of EK players like Zurawski, Ebi that would our "A" team.
Who is to say Ebi or Zurawski doesn't make a comeback next season?
Comments are closed