Lithuania-Poland 2:0. Regular Irregularity.
March 27th, 2011 | by: tomasz |

Comments(25)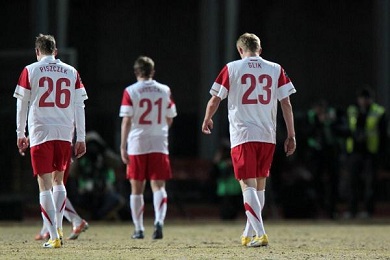 I hesitated a bit to write a review of our loss against Lituania. First of all, I didn't want to post an emotional, full of resentment and anger note. Secondly, it's hard to make any foregone conclusions after this game as it was hard to make any of those after our win against Norway. The fact is that we can't expect any sort of consequence from our team: neither a string of great performances, nor abysmal ones. This is a team without any sort of regularity, a team that doesn't guarantee any kind of stability. Probably even Franz Smuda doesn't have a slightest idea about how our team will perform in the next game. We can as well win against Greece on Tuesday and nobody will remember the Kaunas disgrace.
Lithuania-Poland 2:0 (Saulius Mikoliūnas 18', Edgaras Česnauskis 29')
Poland: Sebastian Małkowski – Łukasz Piszczek, Arkadiusz Głowacki, Kamil Glik, Maciej Sadlok – Adrian Mierzejewski (46' Kamil Grosicki), Dariusz Dudka (85' Tomasz Jodłowiec), Rafał Murawski (46' Sławomir Peszko), Jakub Błaszczykowski (85' Szymon Pawłowski), Ludovic Obraniak (69' Roger Guerreiro) – Robert Lewandowski (73' Michał Kucharczyk)
As expected, the pitch in Kaunas was in horrible state. Still, it can't be treated as an excuse for the Biało Czerwoni. They should win against opponents like Lithuania in all kinds of circumstances, be it snow or 40 degrees heat. Our rivals boasted players like Tadas Labukas or Tadas Kijanskas in their starting lineup, both average Ekstraklasa footballers at best. They also rested their biggest stars, Semberas and Sernas, before the all important game against Spain. We played our strongest possible lineup. In the beginning, it was visible that we are a more skillful team. The pressing was quite well organised, we regained possession quickly and easily and the defense was confident and calm. The only problem was that we didn't create goalscoring opportunities, but it seemed that it was only a matter of time. Surprisingly, the Lithuanians managed to strike first. A fast counter after our corner kick, the usual bad luck/wrong decision from Głowacki, poor positioning from our keeper and the Lithuanians were in front. This is when we stopped playing. The team had no idea how to react and let the opponents take control of the situation. We wasted precious time in the first half when, instead of scoring as fast as possible, we gave the game away. We also gave away the second goal, a similar situation to the first one where poor defending and a nice shot from outside the area gave Lithuanians a two nil lead. This was the moment to react, a moment to show the character. Where was Kuba Błaszczykowski when we needed him? Why Rafał Murawski didn't lead the team forward? Why was Obraniak so careless? These are supposed to be our leaders and I expect them to handle a situation like losing an unexpected goal against a weaker opponent. Instead, the team started playing like in the worst Smuda times: unorganized pressing, too much space between the lines and defenders running all over our own half, but not covering the opposing players well. We only regained the control of the situation in the dying minutes of the first half when Robert Lewandowski and Obraniak wasted chances that should have given us a draw.
I'll give that to Smuda, he reacted very quickly to the result. He replaced the bland Murawski and Mierzejewski with Peszko and Grosicki. Our striking force was now much more powerful. Practically, we didn't leave the opponents' half and created numerous chances that normally must be converted. Lithuania had one great chance in the second half when Widzew's Panka hit the post. We had ones from Lewandowski, Grosicki, Peszko or Roger. Still, this wasn't a well organized and carefully fought out attack, it was more of a chaotic behaviour of a desperate group of people. We tried everything: once Kuba was a winger, then he played in the middle, Peszko changed positions as often, Grosicki was at times a striker and at times a winger, Obraniak was all over the pitch as well. I call it creative chaos, a tactical idea that the sum of skills of all the players simply must bring some positive results. It brought the chances, but it didn't bring the goals. Still, I'd much prefer if we had some well considered idea for these types of situations, not base everything on improvisation of the offensive players. Yes, we can try it against Lithuania when we have more skillful players, but at Euros we'll play against superior and much better organised teams. That's when we need a plan, a strategy, a series of automatic movements that can lead to success. On European scale, we don't have players that will win us games without being 'driven' by a leader from the bench. We've got players who need the right guidance, who can't be left to do anything they want on the pitch. The problem with Smuda's team is that it doesn't offer any sort of stability, it's hard to see any progress or the effects of Smuda's work. We base our results on whether Lewy has a good day, Kuba can come up with a dribbling or two or Ludo's surprising shots. We don't base it on a plan, an idea that players follow in each and every game. There is nothing we can be one hundred percent sure of when it comes to Smuda's team.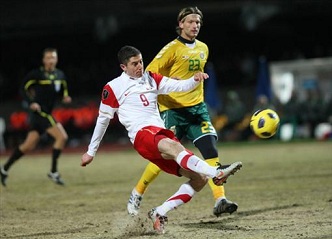 Players' ratings (1-10):
Sebastian Małkowski 4: had two shots on goal to deal with and let both of them in. I have a feeling that Boruc would have saved at least one of those.
Łukasz Piszczek 4: quick, made himself available in the offense a lot, but didn't cover his position at the back well. Too easily outrun on one or two occassions. I expect more from one of Bundesliga's better full backs.
Kamil Glik 3: this was the Glik that we all hate to watch: a player who's always a split of second too late and loses his head quickly when the situation goes out of hand.
Arkadiusz Głowacki 4: it's simply unbelievable that he always has to be involved in conceding a goal when he plays for the national team. I bit better organised than Glik, but overall a very average performance.
Maciej Sadlok 3: how may times must Smuda check that he's not a natural left back? Tries his best, but he won't overcome the shortcomings in pace and one two passes.
Rafał Murawski 3: should organise our attacks from the back, but disappeared completely after we lost the first goal. Must prove that he's a leader of the team in those kinds of situations.
Dariusz Dudka 4: played according to his abilities and didn't make any spectacular mistakes. Didn't strengthen our midfield much as well.
Adrian Mierzejewski 3: one good pass to Lewandowski is not enough from such a creative player. Tried to find himself a place on the pitch, both in the middle and on the left wing, but failed to influence the game.
Ludovic Obraniak 3: warming Lille's bench left a mark on him. He doesn't 'feel' the game as he used to, is often careless and not confident enough in his moves. Poor set pieces this time.
Jakub Błaszczykowski 4: is in poor form at the moment, doesn't take the players on with as much ease as he used to. Woke up too late in the game, drove the team forward only in his last twenty minutes.
Robert Lewandowski 5: a very good game if it wasn't for all the wasted opportunities. Kept the ball very good, feels at home in combinational game, tries much more dribbles than before.
Kamil Grosicki 5: did what was expected of him: caused chaos in Lithuanian defensive line. The fastest player we have on our team. Should have scored when he shot after Roger's free kick.
Sławomir Peszko 4: tried very hard to impress, but had problems to find himself a place on the pitch. Maybe the fact that we had four wingers in the lineup at one time didn't help. Had one great dribble on the right wing.
Roger Guerreiro 5: this is a type of situation where he proves most useful, when the whole opposing team is concentrated on defense. Tried to apply some organization to our attacks.
Michał Kucharczyk 4: a lot of movement and ambition, but he's far behind Lewy in skills department.
Tomasz Jodłowiec and Szymon Pawłowski: didn't play long enough.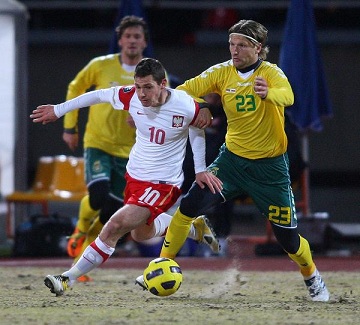 Conclusions:
- it's been year and a half since Smuda took control of the team and it's still hard to notice any positive effects of his work. The team doesn't have his signature, it's a collection of players who sometimes have a good day, but more often not.
- it's not like we have tons of great keepers. No 7 (Małkowski) is definitely worse than No 1 or 2 (Fabiański and Szczęsny).
- Kamil Glik and Arkadiusz Głowacki are not answers to our problems in the middle of the defensive line. Their style of play is just too similar: they're aggresive and always try to get in front of the opponent. At times, they fail to do that. We need at least one centre back with better positioning and passing ability, a ten years younger Żewłakow would be perfect.
- I don't want to write once again about the left backs.
- Rafał Murawski doesn't look as physically well prepared as he was when he played for Rubin. I know that Ekstraklasa has lower demands, but it doesn't mean you can get lazy.
- we've got a problem with Ludo Obraniak and his limited playing time this season. He's not at his physical best and he also doesn't look mentally confident at the moment. He desperately needs more minutes at Lille.
- all the problems at Polonia Warsaw are getting to Adrian Mierzejewski. Another drawback is that Smuda isn't sure how to use him; is he a central midfielder or a winger? Time to decide.
- Kuba Błaszczykowski hasn't been giving the team as much as he should in the last games. It's been some time since his last spectacular perfromances for Dortmund or Poland.
- Kamil Grosicki can be very useful to the team. His speed can surprise any defender in Europe.
That's football, sometimes your onlu shot goes in (as vs. Norway), sometimes the only shot against you go in. Still, if we are to achieve any success at Euros we shouldn't even let Lithuania take those shots. We're a long way from having a prepared team for the Euros.
Highlights:
Subscribe

Poland World Cup Blog RSS Feed

Share
Comments are closed