Let's Welcome The Newest Pole, Roger Guerreiro.
April 17th, 2008 | by: tomasz |

Comments(1)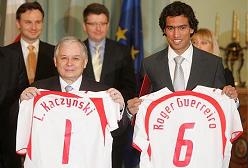 Finally, we're through with this soap opera. After weeks of speculation and controversies Roger received a Polish citizenship from the hands of the president Lech Kaczynski. Now only some FIFA paper work separates him from proudly wearing the jersey with a white eagle on his chest.
I've already expressed my opinion about the naturalization of Roger in a previous article and then presented how the Polish experts view his iclusion in the squad. Now, I don't think there is a need for a further debate about the Legia player among the Polish fans. He is ours and he'll surely be a part of our beloved team. An I love and support all the Bialo-Czerwoni players, regardless if their name is Roger, Olisadebe, Rasiak, Saganowski or Mila. It's in our common interest that he feels well in the team and shows what's he's capable of on the pitch. We as fans should present him with our full support and cheer him just like any other Polish player.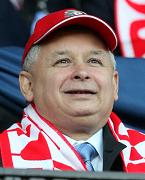 The whole citizenship 'party' was quite posh. President Kaczynski welcomed Roger as the newest Pole. He didn't refrain from stressing that we need more Poles around the world. Kaczynski is not a big football fan, he said that Legia is 'supposedly' not competing for the Polish championship this season. The guy lives in Warsaw and should know this for sure. It was also funny when he called our newest player Mr Roger. Still, it's better than calling Leo Beenhakker Beenhauer. Roger expressed his gratitude and said that it is a very happy day for him. He consulted the decision with his family, especially his mother who supported his choice. Roger also claimed that he would now reject a call up from the Brazilian national manager. I don't think we'll live to verify his words. The whole ceremony ended with Roger and the president swapping shirts (luckily they had the suits on). Roger received the number six jersey; apparently it was our old kit, the one with the hussar on the front (just another proof that the president doesn't really know much about football). There is still some paper work to be sorted out with FIFA's signature necessary to enable Roger to play for us. According to Michal Listkiewicz, the president of the Polish FA, that shouldn't be a problem. You can watch the clips from the ceremony on Gazeta Wyborcza's site.
BEST OF LUCK ROGER, WE'RE COUNTING ON YOU!
Subscribe

Poland World Cup Blog RSS Feed

Share
Comments are closed