Kamil Glik Officially Contracted By Palermo.
July 8th, 2010 | by: tomasz |

Comments(23)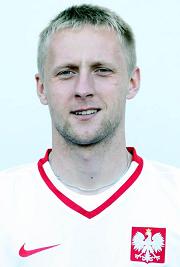 Palermo confirmed on their webpage that they signed Polish 22 year old defender Kamil Glik from Piast Gliwice. He signed a five year deal and will take part in his new club's preseason training. To go from one of the worst teams in the Ekstraklasa to one of the better teams in Seria A is a huge leap forward for our young centre back. Does he have any chances of success?
Here's why I think Glik may succeed in Italy:
-he's very physical (1,90M, 80kg), has good heading abilities and isn't shoved around the penalty box easily. He's perfectly built for a central defender.
- his character. Judging by the national team games, Glik always leaves his heart on the field, never retreats and isn't reluctant to throw his body in the middle of the action. He's very ambitious; he's already stated that he wants to be Kjaer's (went to Wolfsburg) successor at Palermo.
- he's got some experience from abroad. Real Madrid C isn't exactly Palermo, but he should find it easier to adjust to foreign lifestyle than most of the Polish players.
- while Serie A is an extremely difficult league for strikers (as confirmed by Radoslaw Matusiak), it's a very friendly league for defenders. If Glik gets his tactics right he might progress into a really decent player.
Here's why Palermo may prove too big a shoe to fill for him:
- he's never played for a good club before. Piast Gliwice was relegated last season and while Glik had good 2008/09 season and the first part of the 2009/10 one, he was as useless in 2010 as his teammates.
- he's not agile and fast enough. If Palermo plays high pressing defense he may have huge problems to cope with the opposing strikers.
- sometimes his ambition gets the better of him and he reacts too nervously in the penalty box. He tackles too fast instead of waiting for the attacker's move.
- the only international experience he has are few games in the national team.
Kamil Glik's success may be vital to the national team. Our defense looks horrid at the moment and we really need our players to develop fast. After his transfer to Arsenal, I wouldn't necessarily count on Laurent Koscielny joining our lineup. I have a feeling that this is a lost cause. Hopefully, Glik won't be a lost cause as well.
Subscribe

Poland World Cup Blog RSS Feed

Share
Comments

thanks for the info dude! i never heard of the kid to be honest
Posted from
United States

good stuff Tomas, love this info and best of luck to Poland in the future
Posted from
United States

Another article about the conflicting stories surrounding Koscielny possibly playing for Poland
http://www.futbolnews.pl/informacje/aktualnosci-pilkarskie/art,3466,koscielny-nie-zagra-w-reprezentacji-polski.html
The PZPN claim they did meet with Koscielny but he simply wouldn't make a choice.
However, according to others, he was interested 8 months ago but Smuda and the PZPN didn't have a closer look at him. (Which I think is true because even a couple months ago, Smuda mentioned to the press that he hadn't watched him yet and wasn't sure if he would be good enough for us, lol….)
Koscielny himself stated recently that neither Smuda nor his assistant had ever met with him (They gave up because of the ash cloud.)
It seems Koscielny has gathered all the required documents but hasn't submitted them because he was waiting for a clear signal that Smuda/the PZPN really want him in the team, and that they would help him speed up the process of getting citizenship (which can take up to three years). I think this might be true because it's well known the PZPN didn't lift a finger to help Obraniak either.
Chorazyk indicates that, at this point, it is indeed a lost cause!

tomasz – GREAT write up on Glik. Unfortunately, for us Palermo fans, it's been difficult to find much info about him other than the very basics. It's definitely much appreciated now that we have a tiny look into his playing style and characteristics!
And as you stated, let's hope his stay at Palermo is more successful than Matusiak's was.
Posted from
United States

The truth is probably somewhere in between. It seems the PZPN did follow Koscielny / kept indirect contact with him since August 2009. However, ultimately it was up to the NT manager, initially Stefan Majewski and then Franciszek Smuda, neither of whom chose to make contact with the player. It seems Smuda was uncertain of Koscielny's talent and made him a lower priority than the German-speaking players.
However, if the PZPN was aware that Koscielny would be an asset, why didn't they push Smuda to go to France and speak with Koscielny himself?
Perhaps a direct show of interest from the national coach and an explanation that he would have a guaranteed place in our starting lineup (as well as a promise of assistance regarding citizenship) would have helped the matter.
I personally wouldn't commit to a country if a few people from the association contact me but the actual coach does not confirm the interest.

Friggin Howard Webb is officiating the final match of the World Cup.
http://www.google.com/hostednews/ap/article/ALeqM5i0zpQtQG5FHAsE6aIqW5xS2cGMrAD9GR0B5G0
no need for us to rehash why he's so terrible

@KJ, ricci, Lorenzo Rosanero
You're welcome. I too hope that his stay is far more successful than Matusiak's, who's never really recovered after failing in Italy.
@zaraza
Some don't want to play for us, though the coach contacted them (Boenisch):) I think that there were two major problems in Koscielny's case: first, the PZPN's scouting department isn't treated seriously. They don't even get back the travel expenses. It's possible that Mr Chorazyk, or any other scout, knew about Koscielny even before his transfer to Lorient. The problem is that nobody gave a shit. The second problem: Smuda knows Germany very well, but he knows nothing about France. He's got no associates there and none of his assistants have anything to do with France. It's just not his territory. Regardless, his reluctance to move a finger in Koscielny's case is unacceptable.
Now with France having a new coach who'll probably rebuild the squad and Koscielny's transfer to Arsenal I'd be very surprised to ever see him playing for Poland.

The case of Koscielny is a horrible mistake , no excuse for Smuda on this, I was the first happy to see Smuda as our coach, but now I'm really affraid, Poland is going nowhere with him, I didn't see any improvment since he is there.

witold, have you even watched our world cup qualifiers?

this is great news for Glik. I am a little skeptical but I wish all the best for him and our NT.
Robert Lewandowski is off to a right start at Dortmund. Hopefully he can flourish there.
Don't be so quick to write off Lech. If they can land a couple more players they could make a strong push. I'm pleased that Wichniarek came back, if they could land Ebi that would be tremendous but he doesnt seem too interested.
This is a really absurd question, but does anyone know of an online shop that still sells the 06 World Cup kit? I'm dying to find one of those, but I may have to settle for one of those new, less pleasing Nike kits… please let me know.
Posted from
United States

Hey Hieronim, I have a red one from '06 that I will sell to you. Make me an offer.
Posted from
United States

Speaking of jerseys, I have been following Dortmund since Blaszczykowski started playing for them, and now that we have 3 good National guys on that team, I want a BVB jersey! Any one know of a good website with Bundesliga jerseys which ships to Canada?
Posted from
Canada

Was watching The Ski Channel before I tuned into the World Cup the other day. Good stuff in anyone hasn't caught this channel yet. Features the same type of non stop action of soccer. Skiing, climbing, kayaking, etc…
http://www.theskichannel.com

Radek – soccer.com used to have them. They might be available again once Nike starts selling new kits for the upcoming season, or when they restock after the world cup. Most of the soccer retail sites seem a bit low on club gear at the moment.

Does anyone know anything about the Perquis situation and when he will be able to represent us?

Hey. What do you guys think would be a good 23 for the national team. There are many people who still think that Wasilewski will make a comeback and be a starter. I do not see this happening. Wasilewski will be 32 in 2012 and there are many problems in his game. First, he is a bit slow and his defensive positioning is often poor. I think Piszczek is a much better, faster,versatile and more equipped player to play this position.
Here's what my 23 would look like for our national team.
Keepers:Tomasz Kuszczak, Artur Boruc, Wojciech Szczesny
Defenders: Damien Perquis, Jakub Wawrzyniak, Laurent koscielny (very much a strech), Kamil Glik, Maciej Sadlok, Lukasz Piszczek, Blazej Augustyn, Michal Zewlakow( I hope he is gone by 2012)
Midfield: Jakub Blaszczykowski, Adam Matuszczyk, Rafal Murawski, Dariusz Dudka, Ludovic Obraniak, Ebi Smolarek, Maciej Rybus, Radoslaw Majewski
Forwards: Ireneusz Jelen(Please be fit!), Dawid Janczyk, Robert Lewandowski, Artur Sobiech
Like someone said our national team should consist of almost all abroad players. Our domestic league is not good enough to have a team composed of half ekstralaska players.
It would be great to have Koscielny, he is world class. Perquis will be a good edition to have with Augustyn and Glik.
I wish Smuda would screw his head on straight and stop relying on these domestic players.
I really miss Smolarek's dedication, hard work, and eye for goal. he is a spark everytime he comes on the field for Poland. I remeber even when we were destroyed by Slovenia that as soon as he entered he had a shot off the post, the game speed changed dramatically, and Poland started to play more as a unit.
I would really like to see Janczyk given a chance. Also if Jelen remains fit he is a nightmare to defend with his pace and clincical finishing. Lewandowski's new transfer is also a nice help to Poland. Also, I would really like a strong defensive midfield player like Lewandowski (minus the ridiculous shooting).
I really wish Smuda would read blogs like this because many people give good insight and tactical info. on the national team
Any thoughts?
You guys agree and disagree?

Definitively agree with you Phil, exactly what I thought, very good analysis!
Marcin, yes I see it, but does that mean that we can't do better? That Smuda is right when he ignores a guy like Koscielny,like Janczyk, what was Smuda doing since is our Nt coach? We need a genius not an ordinary coach! I repeat, I was the first who believed in Smuda, but I'm a little bit affraid when I see Obraniak to do what Smuda is suppose to do, is Smuda affraid to travel outside Poland and Germany? Maybe it is question of time, but don't tell me that Poland NT is as bad as that?

pretty good line up phil, and i strongly 100% agree with the keepers youve chosen
Only couple of minor tweaks id throw in there are Tomasz Cywka and Krychowiak. I think Krychowiak can make a name for himself if he can keep playing the way he is as for Cywka, he has signed for a pretty good club on the Championship (Derby county) and has 2 years to make a name for himself and crack the starting 11,
As for Wasilewski, im srry but i really doubt he will make a comeback for us. I really hope Glik can make it big at Palermo and create a spark in out back 4.
Our team looks quite competitve on paper, now we just need them to learn and play with each other like a proper football team. With some hard work and many hours of practice i think we can make go far on home soil

http://www.goal.com/en/news/90/france/2010/07/12/2022090/auxerre-coach-jean-fernandez-its-lilles-ludovic-obraniak-or
Posted from
United States

Anyone know why Podolski didn't play in Germany's final game against Uruguay?
Posted from
United States

boruc joined fiorentina. for his sake i hope this means frey moves elsewhere.
http://www.goal.com/en/news/10/italy/2010/07/12/2022257/celtic-goalkeeper-artur-boruc-joins-fiorentina-report
Posted from
United States

Offtopic: Polska's U17 Mens Basketball team finished with the silver in the U17 World Championships in Germany, they even destroyed Germany 77-33 in one game! It's great to see us have success even if it isn't football. USA came first, Polska second and Canada third.
It's great news to hear Boruc is at a new club, hopefully he works hard, because I want him for Euro2012.

J -
Loew was forced to make five changes to his team. Defender Philipp Lahm and forward Lukas Podolski were out with the flu. Backup striker Mario Gomez also has the flu.
"Fellow striker Lukas Podolski and captain Philipp Lahm are two of the players worst affected by flu and Flick said a decision on their selection will be made on Saturday morning. Team manager Oliver Bierhoff said Low was struggling worst of all and that there was a chance he may not even be able to attend the match."
http://soccernet.espn.go.com/world-cup/story/_/id/807474/ce/uk/?cc=5901&ver=us
Comments are closed