In The Shadow Of A Sex Scandal. Greece-Poland Preview.
March 29th, 2011 | by: tomasz |

Comments(19)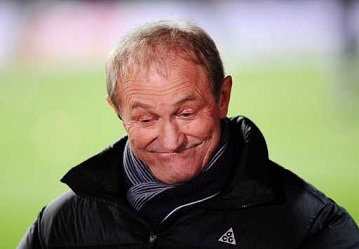 Michał Żewłakow's last ever game for the national team. Another important test on our road to Euro 2012. The will to redeem the loss against Lithuania. These should be the topics of discussion before the friendly against Greece. Instead, all the public opinion concentrates on is the supposed sex scandal (players visiting prostitutes), as revealed by the tabloid Fakt. As a result, the players decided to boycott the media and stopped giving any interviews. Just when you thought that it couldn't get any more interesting…
I'm not going to comment on the sex scandal as it hasn't been proven by the publisher. There are no pictures to certify it and the article isn't even signed by a proper journalist. All we have is an 'unofficial informer' who reported the event to Fakt and tried to sell the story to other papers as well from what I heard. This is a very delicate matter for all concerned and I don't want to deal with it as long as it's only a rumour. When Smuda or PZPN decide to get involved this will become a proper topic for discussion. For know, this is only a substitute subject that gets fans involved in morality discussions rather than football. It's only a shame that the players made the rumour more important than it really is by organising the ill advised boycott. Thanks to them all the fans, even those not interested in tabloid journalism, heard about the supposed extracurricular activities.
Let's return to football, shall we? This is why our lineup may look like today:
Goalkeepers: Małkowski got his chance against Lithuania, Sandomierski will get his against Greece. Hopefully to better effect.
Defenders: There is some secrecy surrounding Michał Żewłakow's last game for the national team. Franz Smuda says that it's a surprise and didn't want to tell whether Żewłak will start the game or only be brought on as a substitute. Smuda only said that the farewell for Michał won't be in bad taste. I'd prefer to see our former captain in the starting lineup and then substitute him around the 40th minute so as to enable the Olympiakos fans to thank him. If it wasn't for Żewłak's farewell, Tomasz Jodłowiec would start in the central defence today. In such circumstances the Polonia defender will get the second half to prove himself and partner Arkadiusz Głowacki in the centre (Kamil Glik will be benched this time). Maciej Sadlok may be replaced by Dariusz Dudka on the left back position, but I have a feeling that Smuda will want to use the Auxerre player in the midfield. Łukasz Piszczek is Franz's first choice right back.
Midfielders: Ludo Obraniak should start in middle this time, which I view as a good decision from Smuda. Ludo doesn't seem physically prepared to run up and down the pitch on the wing and his good passing ability should be much more useful in the centre. In all probability, Obraniak will fill the position Adrian Mierzejewski was playing on against Lithuania. The latter's place in the starting lineup will be taken either by Sławomir Peszko or Kamil Grosicki. My money is on the Koeln winger, whom Smuda trusts much more than Grosik. Rafał Murawski, Dariusz Dudka and Jakub Błaszczykowski will complete the midfield. The fact is that Franz doesn't have anyone to replace Dudka with if he wanted to play him on the left back. Cezary Wilk doesn't even start the games for Wisła, whereas Jodłowiec is far too slow to play in midfield on the international level. Smuda may always opt to play without a typical defensive player and start with Mierzejewski or Roger, but I don't think he'll take that much risk.
Strikers: Robert Lewandowski is the only striker Smuda can count on to do a good job.
I think this game will be much more conclusive than the one against Lithuania, mostly because of the pitch. This time there will be no excuses; we are playing on a good pitch against a type of opponent we must at least draw with to achieve any success at the Euros. I hope football will be the only subject of discussion after the game.
Greece-Poland, Pireus, 20:30 CET
Poland: Sandomierski – Piszczek, Żewłakow (Jodłowiec), Głowacki, Sadlok (Dudka) – Dudka (Mierzejewski, Roger), Murawski, Obraniak, Błaszczykowski, Peszko (Grosicki) – Lewandowski
Subscribe

Poland World Cup Blog RSS Feed

Share
Comments

polska!
Posted from
United States

http://soccernet.espn.go.com/news/story/_/id/899858/lithuania-v-spain-in-doubt-over-pitch-issues?cc=5901
Spain may cancel game in Lithuania because of poor pitch conditions.
Posted from
United States

"Strikers: Robert Lewandowski is the only striker Smuda can count on to do a good job."
And that kind of limiting belief is why Grosicki and others never get the playing time they need and deserve..

@j
I just don't consider Grosicki a typical lone striker. He is more of a winger or can play upfront if we use 4-4-2. In current Smuda's tactics I don't think he's a candidate for Lewandowski's position.

Of course, if you're talking strictly of a "lone" striker then I agree that Lewy is still probably the best choice. Just was hoping to see both he and grosicki up front this time. Lewy is good and getting better but he's no silver bullet for us and still has problems finishing. Seems like whenever someone else shows some potential as a striker, smuda just resorts back to lewy without giving the others a long enough chance in that "lone striker" role.

we are into 25 minutes and I have to admit we are playing MUCH better! I don't know what it is, but this is clearly not the same team that played against lithuania. I still think smuda should call up Boruc, but if Smuda can have Poland play the way they are playing right now (with consistency) than I will be much happier!!
Posted from
United States

Playing better, but still have BIG problems finishing/scoring. Chances are there though. Mostly thanks to the Dortmund trio. Nice saves by Sandomierski too, would have been 1-0 at least if it was Malkowski in goal. Oh, and still have big defensive brain farts, just getting lucky that the Greeks did not score!
Posted from
Canada

Hate this one up front formation, when Smuda took the reigns everyone was talking about "attacking football". but he's playing the same negative formation as BeenSlacker. You dont score goals with one up front.
Posted from
Poland

Overall I am ok with the 0-0 result. The team played some good possession at times, and I thought everyone in the back 4 played well, especially Jodlowiec when he came in although the final Greek corner was a huge let-off for us. Lack of a finishing touch was disappointing, but the chances were there. I wonder if this draw cancels out the defeat to Lithuania…
btw tomasz good call on leaving the analysis of the Lithuania game until emotions cooled off… I know I was freaking furious immediately after the game but the decent performance today cooled me down some. Spain doesn't even want to play on that pitch as paradowski mentioned so that comforts me a little too, although I still agree the pitch conditions cannot be an excuse.
dzienkuje Michal!He played well today except for a couple of instances and got a wonderful send off. Thanks for the memories and all the best.
Posted from
United States

Spain won 3:1. I am still disappointed today, mainly due to the missed chances, this is what ends up haunting teams in the big games. Miss a few golden chances and the opponent counters and scores, Poland is lucky Greece missed their chances too today. I would be more satisfied with the 0:0 draw if I knew Greece fielded their best team, but they didn't, so to me this draw is an average result for Poland. But yes, definitely better than the loss against Lithuania. Though if it wasn't for a few brilliant saves from Sandomierski, it would have been another loss. Makes you wonder if Sandomierski would have saved any of those goals against Lithuania….
Posted from
Canada

I really believe those goals by lithuania were stoppable, by other keepers than malkowski. in any case we're still in poor shape overall. Don't know what its going to take to give Poland a first class team. I'm no longer confident in Smuda.

@ Radek: You are correct instead of the 6th choice goalie against Lithuania our 1st or 2nd choice would saved both shots. I like your passion but your tone changed completely from the last game. When a tie or win was predicted you said "LOL & it will not be pretty!".
My point here is we as fans can not think the world ends with a loss. These games are all glorified scrimmages & when they lose they are not total shit & when they beat the 10th ranked team in the world & tie the 11th it does not mean we are going to win Euro 2012.
We all would like to see them win 5:0 every game but it will not happen. You can only hope for small improvements from game to game. 0:0 is a good away game result.

Some of you here are very happy with a draw away in Greece. If Greece were playing their 1st squad and this game was on the line I would also accept a draw. But, guess what Greece only had a handful of starters playing and rest were composed from the 2nd team.
Yes, we did look better but we are playing Greece 2nd team, how happy can you really be?
Lewan had some great chances but did not finish and the rest of the guys also had some close shots..but when it comes down to it we need to finish and we need to finish often. Although we actually made passes we were often unable to finish off the chances properly somebody lost a ball or took a stupid shot from distance. It frustrates me when I see Obraniak running on the break and another player near him and then you have OBRAN raising his hands as hes pissed and cant find an open man to get the ball.
At the end of the day I'm going to expect the best and once again I was dissapointed. We lack the killer instinct and the hard nose football we should be playing. On the other hand…I did like Mierzejewski today as he played well as a Defenseive Mid – fought for balls and made some important challenges and tackles.

It is a good result against the 11th ranked team. We have played to have this result, and it is a good news. Hope that we can now align good performance, not wins or ties, just a good play. I still don't know why Smuda still doesn't want change his 4-5-1 to test a 4-4-2… But today he could be happy of the result.
Posted from
Canada

Happy with a tie. I say the Malta vs Greece on Saturday and Malta should have at the very least made a tie. Greece are a one hit wonder, very average team better than us yes but not much substance there. Notting for Nothing but what formation he plays with players from the horrible EK and so forth, where are we going. Even good players like Jelen have no pride when it comes to the NT, leave him out. ITs either your all in or out. Another thing I acutally like the fact that the players did something other than drinking , Poles have never been mistaken for Don Juan's and people will lay off the drunk remarks.
Posted from
United States

yes JZ my tone changed a bit, but I still think had Greece fielded their first team it would not have been pretty! So I stand by what I said. We were lucky to tie, as Sandomierski came up with a couple world class, pure luck saves, and the Greeks missed a few easy chances on their side.
While Poland played better than against Lithuania, lets not forget some factors which might have contributed to this: Greece did not field their 1st team, pitch conditions were better, more motivation from the Polish players due to it being a farewell to Zewlakow and to avoid another dysmal showing like a few days ago, and of course they had a couple more days to practice and gel together.
To me, I just do not see much, if any improvement when looking at the big picture, compared to 6-12 months ago. Like many of you here, I am, starting to lose any hope in Poland coming out of their group come the Euros. I rather have low expectations and be surprised than have some expectations and be disappointed.

terrible result. we played the back-up greek team if not worse. this should have been a win. lewy isnt mature enough to play solo up front. 4-4-2 is a much. the defense will be better with the foreigners coming in but i think zewlakow should stay, talented and a leader. F*ck smuda. he is a such a stupid kurwa. stubborn and unwilling to change his losing/hopefully tying ways. if pzpn had any balls they would fire him. this last year = one small step forward, three giant leaps back.. nowhere near where the team should be.
Posted from
United States

I like 'hearing' "zewlakow should stay" tommy — what else we got that will not make room make room for him. With the injuries why rule him out? Why not like a Klose, fit and probably has another year or two in him. Anyway, sounds like the defense was often better today.
Posted from
United States

AFAIC that's the best asenwr so far!
Posted from
Austria
Comments are closed