In Search Of Regularity. Lithuania-Poland Preview.
March 25th, 2011 | by: tomasz |

Comments(29)
Can you smell Euro 2012 coming? I can as I ordered 15 tickets for the matches (Poland's group games and games in Poznań). If I'm allocated all of them I will probably have to sell my liver (not in a good shape) to pay for all of it. You can order your tickets till the end of March on the UEFA homepage. I hope that our players also can smell the Euros coming and treat each friendly game in a serious matter. At least that's what they say in the interviews. Today, we'll undergo another test in our tournament preparation. This time we're playing Lithuania (with eight players from the Ekstraklasa) away. We're without Fabiański, Szczęsny, Tytoń, Boenisch, Jeleń, Wojtkowiak and, of course, Artur Boruc.
Let's have a look at our possible lineup:
Goalkeepers: We've finally come to pay for Smuda's idiotic treatment of Artur Boruc. Not even Hitchcock could have thought of such a disaster, but it's for real: our three starting keepers are all injured (Fabiański till the end of the season, Tytoń may also miss the season, Szczęsny should return in a matter of weeks). In games against Lithuania and Greece Smuda will play a victim of his own policy as he'll have to count on the inexperienced Grzegorz Sandomierski and Sebastian Małkowski. Even such an emergency situation didn't convince Franz to come to an agreement with King Artur. Smuda stated that regardless of circumstances the Fiorentina keeper will never again play in his national team. Franz's reluctance to pick Tomasz Kuszczak is more surprising; after all I'd feel more confident with Manutd's backup goalie than players who've seen almost no football outside the Ekstraklasa. Sandomierski is more experienced of the two as he's already played twice for the national team. Mind you, these were the games where we used the 'B' or even the 'C' team. However, Smuda is planning to use Lechia Gdańsk's Małkowski (only nine games in the top division) as his first choice goalie against Lithuania. I've seen Małkowski two or three times and the thing that I can say about him is that he's got good physical conditions and has been so far blunder free in the league. We'll see how he handles the international pressure, but I wouldn't put too much importance on it. After all, Sandomierski and Małkowski are our nr 5 and nr 6 keepers at best.
Defenders: Arkadiusz Głowacki and Kamil Glik played well enough against Norway to be paired once again in the centre of our defense. Głowa has been injury free for some time now and he's a regular at Trabzonspor, whcih is fighting hard for the Turkish championship this season. The problems that Smuda has with defenders opened a huge chance for Głowacki, maybe the last in his career. The two upcoming friendlies will decide whether he becomes a regular member of the team or whether Smuda has to set him aside once again. I'm very curious about Kamil Glik, a player who's started every possible game for Bari in Serie A this year. His progress was clearly visible against Norway, now it's time to build on this performance. Playing against the likes of Ibrahimovic or Del Piero on everyday basis should raise Glik's confidence significantly. On the left side, since Smuda wants to use Dudka in midfield, Maciej Sadlok will have to fill the void left by Sebastian Boenisch's injury. Sadlok isn't even considered a left back candidate at his club Polonia Warsaw, yet Smuda continually places him there in the national team. He harms both the player and the team. Luckily, Smuda doesn't close the door for Piotr Brożek, who's had good games recently at left back in Turkey, at least that's what Głowacki reported to the coach. As expected, Łukasz Piszczek will complete our defense on the right side.
Midfielders: Smuda had to think of a replacement for Adam Matuszczyk and he came up with Dariusz Dudka. We've been discussing the absence of a well built, physical defensive midfielder in the team, but now it seems clear that Smuda considers Dudka this type of player and will use him when Matuszczyk or Rafał Murawski get injured. Dudka profits from his universality as he can play on every position in defense and in the middle of midfield. I don't expect wonders from him, but I expect a full hearted, ambitious performance. And no more stupid shots from free kicks. Our second captain, Murawski, will partner Dudka in the holding role. Muraś has been doing quite well since he returned to Poland and has become one of the top Ekstraklasa midfielders once again in a blink of an eye. Regular performances for Lech should be enough to keep him in a good form. The more difficult question that Smuda faces is who to play in a more advanced role. Normally, Ludovic Obraniak was a dead cert for a place in the starting lineup, but this time Franz may keep the Lille midfielder on the bench. It may be caused by Ludo's recent injury or maybe Smuda finally wants to try something else and test various different solutions. Adrian Mierzejewski and Kamil Grosicki may play at the expense of Obraniak. I'm totally in favour of giving the Sivasspor winger a chance from the first minute; he's been getting great reviews for his initial games in Turkey and it's high time Smuda finds out if he can be a serious competitor for the place in the starting lineup. Grosicki's addition will give the team a lot of dynamism on the left wing (if Sadlok can keep up). I'm not as convinced by Mierzejewski in central midfield since he's not as impressive this year as he was before the winter break. All the commotion at Polonia is negatively influencing his output and it looks as if he's already grown tired of the situation at the club. Maybe he charged his batteries at the national team training camp. Smuda may also use Sławomir Peszko in the middle, as was his irritating habit before, but I don't think he'll include the Koeln winger in the starting lineup straigh after returning from the expulsion. Smuda must also remember that without Obraniak we lose a lot in the set pieces department. I hope that he only wants to play a more physical midfield against Lithuania and will restore Ludo for the Greece friendly. No surprise on the right wing; Kuba Błaszczykowski will cooperate with Łukasz Piszczek.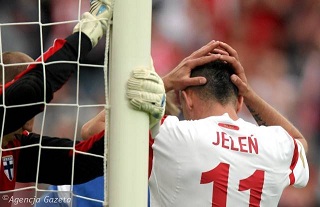 Attackers: I've said it before and I'll say it again: don't count on Ireneusz Jeleń. Once again Irek has to leave the national team because of an injury, this time it's a calf problem (some reports say about the ankle). Smuda acknowledges the problem with Jeleń as well and stated in the latest interview that this situation simply can't continue. Jeleń understands the gravity of the situation and employed a private fitness coach who'll look after his physical preparation. Better late than never. All this means that Robert Lewandowski will play as the sole striker and won't have to be stuck on the wing. Unless Smuda comes up with another brilliant idea…One more thing that I don't like is the slow reaction of our coaching staff regarding the Jeleń injury. Apart from Lewy, we've got no natural strikers in the team (Grosicki and Kucharczyk are as much strikers as they are wingers), even though the staff knew about Irek's problems last weekend. They should have called up another player, be it Brożek, Niedzielan or Sobiech, just to improve our options upfront.
Don't expect a breathtaking match today. Not as much because we're not a good team, but because the pitch in Kaunas resembles the one in Poznań. In other words, it looks like straight after the Monster Trucks derby. Endurance and attitude may be more important than technical skills.
Lithuania-Poland, Kaunas, 20:30 CET
Poland: Małkowski (Sandomierski) – Piszczek, Głowacki, Glik, Sadlok – Dudka, Murawski, Mierzejewski (Obraniak, Peszko), Błaszczykowski, Grosicki (Obraniak) – Lewandowski
Subscribe

Poland World Cup Blog RSS Feed

Share
Comments

0-2 at the half. It's simple. Glowacki, Glik, Sadlok, and Mierzejewski need to be dropped from starting roles and Smuda needs to grow a brain.
Posted from
United States

The defense assisted the first goal and wasn't covering/marking well at all on the second. Maybe Boruc could have saved the first but I have no problem when people are required to be responsible for their actions. Was Artur the King for N. Ireland? he's made his own mistakes on the field too.
Posted from
United States

I would be fine to see Boruc out there, but I refuse to fret about it. Mostly because he doesn't use his strong ability and character for strong team leadership: "with great power comes great responsibility" (Uncle Ben/stan lee)
Posted from
United States

After this beatiful performance today, I think that talking about our chances at EURO is just a waste of time. We have no chance, there is no leader no defence, nothing worked today. Lewy tried but could not do anything alone.
Posted from
United States

They have beaten us 3 out of the last 4 times and the other was a tie. 2 years ago thier club team killed our chAMPS 3-0 when we threw more punches than shoots on goal. POLAND IS LIKE A whore house, the lithuanians just put thier money down and take what ever they won't. Keep this in mind Lithuania has the total population of 4 million on a good day. Smuda would not want to try people like Augystin or Malicki, thats it keep playing players like Rubas you will go real far.
Posted from
United States

@msudzi
Disappointment and anger I can understand when it comes to talking about their performance. I'm upset about it as well. But you, msudzi, are just plain hating. Isn't the point of being a fan to cheer the successes and curse the failures? Once you start hating, I think you've gone too far. This isn't club football where we can blame the coach and management for not bringing in the right players, or refusing to open up the books to bring in anyone at all. I undrstand you don't agree with Smuda's tactics, but if you think he's the only problem, you're mistaken. The team we have is the team we have. There won't be any transfers here. We have to accept our players aren't good enough yet. They opened the game with a good deal of possession and attacked. Then Lithuania scored on a quick counter. The rest of the first half, Poland disappeared. Lithuania pressed and the result was 2-0 at the half. The players just gave up there. They came out and played better in the second half, but they didn't look confident and rushed their chances. I can live with a loss. It's damn near impossible to win every game. Mistakes happen. But how Poland managed to remain shut out of the scoring is what worries me. Who pictures Lithuania as a defensive monster? In my opinion, our offense has to function if the defense is gonna have any chance. If we don't score, we'll lose every time. And just who, msudzi, would be your ideal pick for coach now? What manager is gonna fix this team? Poland is not France, where a better manager will make a huge difference with world class athletes on their roster. Poland is Poland. Lacking confidence, lacking proper structure, and lacking a real leader. I think Smuda is trying his best. Unfotunately, he's trying to compete in a grand prix with a Fiat. And that's that.

I belive smuda is a huge part of the problem First of all he wont call up some of the best players borus for example even after a long suspention i belive boruc has learned his lesson. Second of all he plays players out of their positions. He cleary dosent call up the best players such and in the end calls up EK based players that are garbage. you can cleary see that he dose not treat players as equals. Smuda dose not have the ability to coach a national team what experiece dose he have coaching outside of poland ( i may be wrong there). He says he wants to play like barcelona wanting to dominate posetion and press forward. Thats fine except we dont have world class players.

Trying to compete in a grand prix with a fiat ? Boruc (Do very well in Serie A),Kuszczak( Manchester United as backup for one of the top three team of the world), Piszczek, Kuba, Lewandowski,playing for the leader team of the Bundesliga, Obraniak (Lille leader in Ligue 1) Woaw, what you need to compete against a small team like Lithuania? Smuda maybe trying do his best but it is clear for me that he is incompetent. Why this team as no caracter ? Because Smuda can't deal with the individual caracter… Boruc could be and should be a leader for this team as he did it with Celtics and Fiorentina, with real competent coachs…
Posted from
Canada

I have one thing to say to Smuda and his "holier than thou attitude" and the rest of the PZPN jackasses: HAHAHAHAHAHAHAHAHAHAHAHAHAHAHAHAHAHAHAHAHAHAHAHAHAHAHAHAHAHAHAHAHAHHAHAHAHHAHAHAHAHAHAHAHAHAHAHAHAHAHAHAHAHAHAHAHAHAHAHAHHAHAH.
They can't say that its because the Ekstraklasa is crap since half of the Lithuanian line-up featured Ekstraklasa based players. It's a shame that Poland wasn't able to give Lithuania a better game before their big game versus Spain. Maybe Jozef Wojciechowski should take over the PZPN. LOL.

I agree with adas comment above. Also, the defense is way to weak for Smuda's attacking tactics. The wingbacks on both sides pushing up made us more vulnerable so we had less than four defenders on counters. I know you don't have to have a bigger team to win (i.e Barcelona) but vs Lithuania Poland often (not always) looked like boys playing against men.
Posted from
United States

@ Daniel
I'm not saying Smuda isn't a problem. I'm saying the the whole team as a unit is a problem. I'm not convinced our best players are that great. Boruc is a keeper. He's not the best in the world, look how hard it is for him to find a decent team to play for. Our trio in Dortmund? They're playing alongside some really talented players. Put me out with Dortmund, and I'll look better than I really am too (not comparing myself to our trio, just saying as an example). As for playing out of position, I agree this hinders a player's abilities. But they should still have tons of fight and pride in them. They should be playing with their hearts on their sleeves, and I'm not seeing all 11 do that at the moment. I really don't see any strategy making the team better. They don't have it in them to play to their max abilities. That's just my opinion, but they look different every time I see them, except for lacking confidence, structure, etc. These criticisms go on everyone, Smuda, Kuba, the whole team.
@witold
Boruc isn't impressing me in Serie A. He's good, but not great. I'd like to see him on the team because he doesn't get scared, but other than that he's only a goaltender. His abilities are impeded by the horrible defense of the team. Kusczak? When was the last time he even played? So, he's at Man U. He's just a filler there. They have no confidence in him. He's wasting away. Again, Pisczek, Kuba, and Lewandowski are surrounded by a great team. They'll look good even on a bad day in Dortmund. Stick them with our best players and it's easy for a team to nullify their contributions. Look what happened today, or yesterday. Obraniak? He came up through the French system. So it's hard to judge if he'd be playing in Lille if he came up in Poland. But the fact is, even he's gotta struggle with the rest of the team we have. What you've described to me is a Fiat with a bumping sound system and shiny hubcaps. Where's the powerful motor? We can't outscore Lithuania. Huh? Besides, we're talking about professional athletes. They don't have to like Smuda, or feel he's competetant as you don't, but they should be able to get it done on the field. They dissapear there. That's on them.
@ paradowski
That first goal scored was awful. All four defenders collapsed on the man with the ball leaving a free man running on the left side. When the ball was passed to the open man, all four had to turn to see him. What kind of marking is that? It was ridiculous.

@ Adas: Boruc don't impress you in Fiorentina doesn't mean that he didn't play very well, I saw every match that he has played and he makes a lot of great saves. Also, since he is playing Fiorentina do alot better than with Frey this season.
You think that a team like Dortmund will go on the pitch with 3 averages players, they don't have any backup to replace them? Please…
I don't understand what you mean by Obraniak and french system, I told that Poland have on the pitch a lot of good player not that they all grew up in the Polish organization.
If you don't understand that a coach doesn't have a big impact in a team, you maybe don't understand why all people talk so much about them, and one of the most important think about the coach system is his ability do make a team plays together
Posted from
Canada

Witold, he makes many great saves. But Boruc is not a wall. Put the Polish defense in front of him and he's letting a lot of goals as well. And let's not forget, the three average players are good. But they're not great either. Not one of them has a guarantee spot in the starting lineup. You really think Borussia doesn't have anyone to replace them? I believe you are wrong. At best, Lewandowski is a rising substitute. He's more likely to come off the bench than score. I don't see this changing unless an injury occurs to someone ahead of him. Obraniak came up through the French system, so if he's any good he should be playing for a French club. It's harder for a Polish player coming up through Poland to break through and find a spot on a foriegn club. Who are these good Polish players you speak of? Because once they get on the pitch for Poland, they aren't so good. I understand that a coach has impact on the team. I see how Leo made a difference. But in the end, the players didn't play well with him either. I'm starting to get the sense that the players attitudes have a lot to do with how this team falls apart. And if you can't see that, then you need to open your eyes here. I'm not saying that Smuda is the ideal option. but with how the Polish players seem to lack the appropriate fight in them, no one is going to lead them to victory. It's a soccer issue in Poland, putting the blame any and everyone associated with the team. It's not just Smuda. It's everyone. So, seeing as people are getting personal with Smuda, how do you not get the same way with the players? Have you seen the Kuba interview after the Lithuania match? He says its embarassing that they lost. He doesn't really look or sound embarassed to me. He just sounds finished, as though he doesn't know what else anyone could want from him. And that's the captain? Come on.

adas – yes, very right about first goal. I was just pointing out the defense problem and it probably wouldn't matter if Boruc was there. Not only was Mikoliunas wide open on the left, one of our defenders assisted the goal by passing/deflecting the ball to him.
Posted from
United States

First @ADAS – Borussia is stacked what are you even saying? Piszczek is one of the best wingbacks in the German Bundesliga – and Jakub when healthy is deadly on the wing. How about Lewan he is still young and has a lot to learn he will start with a big time club in two years max. The kid has skills. You can talk about players not fighting but thats fucking bullshit the problem is that Smuda and his tactics are shit and he is putting players in awful situations to do even worse. When you put a player in a position he is not use to then yes his chance of hurting the team increases as we saw yesterday. Counter attack killed us because the players he has chosen are wretched – Glowacki too old and slow, Glik awful amateur player who cant keep up with a turtle – I dont care if he plays in the SEria A he is shit. Every 7th game he plays decent while the other 6 he is shit!
Some people on here have no clue what they are talking about. At the current moment the cancer of the team is SMUDA. I have tried to be patient with this man, agree with his authoritative style of management but at the end of the day he is a complete idiot.
#1 – He wants us to play like Spain, when we do not have the caliber nor the talent to do so.
#2 – Our defense is in shambles and yes any keeper will have some issues but I'm telling you right now Boruc would of saved both those shots for goal yesterday.
#3 – Smuda is a typical hard headed individual that wont let somebody talk bad about him – why should Boruc be gone forever and then hes giving Peszko another shot and Zewlakow a farewell match. If he is so strict like he says then none of these players ever play. But, Boruc is a second time offender ohh no a beer or wine after a match. What a big fucking deal.
#4 – Continue to experiment SMUDA you idiot – honestly when was Dudka ever a good DM option NEVER – how about Sadlok being played out of position for the 5th time he is a fucking central defender not a wingback and he has no clue how to move up with the ball like Sebastien Boenisch miraculously did.
#5 – Tactics wise you play a 4-2-3-1 for what, what the fucking are you defending your horrid defense flood the midfield and play possession football built up and come back for the counter. Lewan needs help ufront we have the players but a blind ass coach to see what to do with them…
Here is what yesterday should of looked like …..
————-Sando———————
–Piszczek–Jodlowiec–Sadlok—Dudka–
-Blasz—Obraniak —Murawski—-Peszko
—–Grosicki——-Lewan———
Let me coach the fucking team I could do a better job use the players you have and play them in the right position.

@ bigcmos,
I'm sorry. I know Pisczek is good, but he hasn't been around long enough to declare him one of the best in the bundesliga. Second, he plays on a good team where he doesn't have to be as good to look it. How do his performances for the national team stack up compared to league mathes? If he's really so good, he should dominate when he plays on the national team as well. And Jakub staying healthy seems to be a bit of a problem. So, he won't achieve top status that way either. I think Dortmund finds him a bit unreliable in terms of health. Look, I'm not saying none of these players will get better. I think it'll take time. Lewandowski is only in his first year at Dortmund. He's gonna need time to fully adjust. Right now, the team we have to root for isn't good. Our stars aren't stars yet. I'm not expecting anything big out of the Euro tournament. But I damn well expect the boys to be developed enough to make it to the next World Cup. Blaming everything on Smuda is just a weak excuse. I haven't seen one player, amateur level or Bundesliga level actually play like they care. How do you play in the bundesliga but virtually dissappear when Lithuania scores against you? All we have are friendlies until the tourney starts, but you have to play like you mean it. You can't just flip a switch and turn on the effort whenever you feel like it.
and if you really think you can coach better than Smuda, then why aren't you coaching a pro or national team now? If coaching a team is so easy, then why can't everyone do it? Smuda is a problem, even if it's only because he can't seem to solve any problems. But he's not the only problem. Whenever Poland plays I always feel like it's boys against men. And the boys are wearing red and white. Maybe all it will take is time for them to grow up. I can only hope so.

If we have more than 3 players on the field representing the EK that is 2 players too many the leauge is a joke, and if you can't stand out in the EK how good are you really.
Posted from
United States

@adas – I see what you are saying..but have you watched Borussia play this year? I have seen about 9 games in total and guess what the attacks that happen are started from Piszczek then moved onto Blasz these guys aren't just filler players they are one of the main reasons why Borussia are successful. In the Bundesliga Piszczek is rated very high because of his outstanding defensive play and offensive contributions!
I do coach, but it's American football and yes I have also coached regular football and understand the game. What drives me insane is that he has players to choose from but instead he relies on the same idiots each and every game that do not show any promise. Furthermore, he cant control a room and has pissing battles with players, while in my case I have great personal skills and am able to deal with hot heads. So, based on the second half I think I would be a better manager as Smuda is a stuck up bitch that thinks he is bigger than the team at the moment. Have you heard some of his interviews this guy is pure ignorant.

DYZMA

Fire Leo B he should become a Polish saint for getting that bunch of ham and eggers to a tournament.
Posted from
United States

@bigcmos
Look, I'm not defending Smuda here. I'm simply saying we have to accept that he is the coach. But I can't put all the bad play on him. Just as in your example the play for borussia starts in the back, why can't these players interact the same way for Poland? I understand they may be positioned differently, but they should still have a chemistry with one another. And they don't. It's like the second they put on Red and White, they don't know how to play with the skill they use in Dortmund. And that has to do with the players around them. I understand. But to me, that makes them pivotal role players for Dortmund, and Poland needs those but it needs a real leader more.
As for picking poor players, I'm sorry, but Poland is a country of mostly poor players. I don't see in most positions how an exchange of player will help. As for personal skills, I'm sure Smuda thinks he has plenty of those skills as well. So, you praising yourself doesn't mean much to me. I'm beginning to think when the national team gets together, no one can control the lockerroom. That's my opinion, but I haven't seen them act like true professionals. And maybe it has to do with the fact that they won't play a meaningful game until the summer of 2012. But they need to wake up, because Smuda's probably finished no matter what happens at the Euro. The players, they might be finished as well. This could be their last chance, and most of them are quite young.
And as for him being arrogant, I really don't care. He's not the only manager who acts that way. Also, if this blog is any indication, he's taking all the heat for the team's deficiencies. I'd be rather arrogant and defensive if I was in his position. The players aren't doing their part. I'm sure the PZPN is on his ass too. He can't make anyone happy. that puts you in pretty lonely company. So you can keep hating him all you want, but this a football issue for the country of Poland, and not just a Smuda issue. I really wish people would see that.

hey guys just curious if u heard about this rumor and btw i dont know who he is. i looked for him on wikipedia but i did not see him listed there. has anyone heard of him. piotr zielinski from zaglebie lublin being transferred to udinese in serie a italy. here is the link: http://www.footballpress.net/?action=read&idsel=81819

That site says he is 26 but when i checked online hes only a 16 years old and plays for Lubins U-19 team. This is actually good if true, developing at a Serie A team is much better for his career than staying in Poland.

Thank you Bigcmos! You tell exactly what I think, I'm very happy to see that I'm not the only one who see a good potential in the NT Team, and how Smuda scrap it…
Posted from
Canada

I've come down in support of Smuda on the Boruc issue (just the same i'd l like to see Artur in there); I'm just not easy to be so negative in general. And trust me, my liver is not so fresh as well, a drink after work really shouldn't be an issue. But I do believe in good leadership. And after this last game against Lithuania it is clear that something is not right in the coaching leadership and with the players too — many of which are not the good physical shape they should be (D and D-mids particularly). It is incomprehensible to me that in all of Poland, there are not 4, let alone one, great defenders (Piszczek shutting down Ribery is about as good as it has been for a defender Pole. But of course more manageable in the Dortmund squad). The defense and yes Małkowski were pathetic. Regarding players out of position, It is hard for me to believe players can not be more versatile, but playing it is clear the trying players out of there most comfort zone is nothing but a joke and a serious coaching flaw in persisting with such ideas. I don't disagree with folks that believe others should be selected to the kadra. Compared to this last game, it would be better to just bring in the toughest bad asses that seem to stop play in the EK ever 30 seconds to at least put some tough ass hustle and work into the white and red. Can;t believe that can't even come close to proper defense positioning. The defense and defense mids were pathetic vs Lithuania. I would not be surprise one bit if bigcmos' could defend better. I know I'd be pissed at my daughter if she played like that.
Posted from
United States
Comments are closed