In Search Of Regularity. Lithuania-Poland Preview.
March 25th, 2011 | by: tomasz |

Comments(29)
Can you smell Euro 2012 coming? I can as I ordered 15 tickets for the matches (Poland's group games and games in Poznań). If I'm allocated all of them I will probably have to sell my liver (not in a good shape) to pay for all of it. You can order your tickets till the end of March on the UEFA homepage. I hope that our players also can smell the Euros coming and treat each friendly game in a serious matter. At least that's what they say in the interviews. Today, we'll undergo another test in our tournament preparation. This time we're playing Lithuania (with eight players from the Ekstraklasa) away. We're without Fabiański, Szczęsny, Tytoń, Boenisch, Jeleń, Wojtkowiak and, of course, Artur Boruc.
Let's have a look at our possible lineup:
Goalkeepers: We've finally come to pay for Smuda's idiotic treatment of Artur Boruc. Not even Hitchcock could have thought of such a disaster, but it's for real: our three starting keepers are all injured (Fabiański till the end of the season, Tytoń may also miss the season, Szczęsny should return in a matter of weeks). In games against Lithuania and Greece Smuda will play a victim of his own policy as he'll have to count on the inexperienced Grzegorz Sandomierski and Sebastian Małkowski. Even such an emergency situation didn't convince Franz to come to an agreement with King Artur. Smuda stated that regardless of circumstances the Fiorentina keeper will never again play in his national team. Franz's reluctance to pick Tomasz Kuszczak is more surprising; after all I'd feel more confident with Manutd's backup goalie than players who've seen almost no football outside the Ekstraklasa. Sandomierski is more experienced of the two as he's already played twice for the national team. Mind you, these were the games where we used the 'B' or even the 'C' team. However, Smuda is planning to use Lechia Gdańsk's Małkowski (only nine games in the top division) as his first choice goalie against Lithuania. I've seen Małkowski two or three times and the thing that I can say about him is that he's got good physical conditions and has been so far blunder free in the league. We'll see how he handles the international pressure, but I wouldn't put too much importance on it. After all, Sandomierski and Małkowski are our nr 5 and nr 6 keepers at best.
Defenders: Arkadiusz Głowacki and Kamil Glik played well enough against Norway to be paired once again in the centre of our defense. Głowa has been injury free for some time now and he's a regular at Trabzonspor, whcih is fighting hard for the Turkish championship this season. The problems that Smuda has with defenders opened a huge chance for Głowacki, maybe the last in his career. The two upcoming friendlies will decide whether he becomes a regular member of the team or whether Smuda has to set him aside once again. I'm very curious about Kamil Glik, a player who's started every possible game for Bari in Serie A this year. His progress was clearly visible against Norway, now it's time to build on this performance. Playing against the likes of Ibrahimovic or Del Piero on everyday basis should raise Glik's confidence significantly. On the left side, since Smuda wants to use Dudka in midfield, Maciej Sadlok will have to fill the void left by Sebastian Boenisch's injury. Sadlok isn't even considered a left back candidate at his club Polonia Warsaw, yet Smuda continually places him there in the national team. He harms both the player and the team. Luckily, Smuda doesn't close the door for Piotr Brożek, who's had good games recently at left back in Turkey, at least that's what Głowacki reported to the coach. As expected, Łukasz Piszczek will complete our defense on the right side.
Midfielders: Smuda had to think of a replacement for Adam Matuszczyk and he came up with Dariusz Dudka. We've been discussing the absence of a well built, physical defensive midfielder in the team, but now it seems clear that Smuda considers Dudka this type of player and will use him when Matuszczyk or Rafał Murawski get injured. Dudka profits from his universality as he can play on every position in defense and in the middle of midfield. I don't expect wonders from him, but I expect a full hearted, ambitious performance. And no more stupid shots from free kicks. Our second captain, Murawski, will partner Dudka in the holding role. Muraś has been doing quite well since he returned to Poland and has become one of the top Ekstraklasa midfielders once again in a blink of an eye. Regular performances for Lech should be enough to keep him in a good form. The more difficult question that Smuda faces is who to play in a more advanced role. Normally, Ludovic Obraniak was a dead cert for a place in the starting lineup, but this time Franz may keep the Lille midfielder on the bench. It may be caused by Ludo's recent injury or maybe Smuda finally wants to try something else and test various different solutions. Adrian Mierzejewski and Kamil Grosicki may play at the expense of Obraniak. I'm totally in favour of giving the Sivasspor winger a chance from the first minute; he's been getting great reviews for his initial games in Turkey and it's high time Smuda finds out if he can be a serious competitor for the place in the starting lineup. Grosicki's addition will give the team a lot of dynamism on the left wing (if Sadlok can keep up). I'm not as convinced by Mierzejewski in central midfield since he's not as impressive this year as he was before the winter break. All the commotion at Polonia is negatively influencing his output and it looks as if he's already grown tired of the situation at the club. Maybe he charged his batteries at the national team training camp. Smuda may also use Sławomir Peszko in the middle, as was his irritating habit before, but I don't think he'll include the Koeln winger in the starting lineup straigh after returning from the expulsion. Smuda must also remember that without Obraniak we lose a lot in the set pieces department. I hope that he only wants to play a more physical midfield against Lithuania and will restore Ludo for the Greece friendly. No surprise on the right wing; Kuba Błaszczykowski will cooperate with Łukasz Piszczek.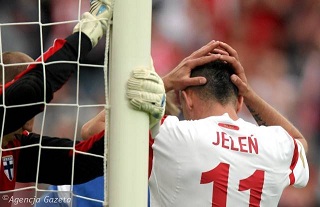 Attackers: I've said it before and I'll say it again: don't count on Ireneusz Jeleń. Once again Irek has to leave the national team because of an injury, this time it's a calf problem (some reports say about the ankle). Smuda acknowledges the problem with Jeleń as well and stated in the latest interview that this situation simply can't continue. Jeleń understands the gravity of the situation and employed a private fitness coach who'll look after his physical preparation. Better late than never. All this means that Robert Lewandowski will play as the sole striker and won't have to be stuck on the wing. Unless Smuda comes up with another brilliant idea…One more thing that I don't like is the slow reaction of our coaching staff regarding the Jeleń injury. Apart from Lewy, we've got no natural strikers in the team (Grosicki and Kucharczyk are as much strikers as they are wingers), even though the staff knew about Irek's problems last weekend. They should have called up another player, be it Brożek, Niedzielan or Sobiech, just to improve our options upfront.
Don't expect a breathtaking match today. Not as much because we're not a good team, but because the pitch in Kaunas resembles the one in Poznań. In other words, it looks like straight after the Monster Trucks derby. Endurance and attitude may be more important than technical skills.
Lithuania-Poland, Kaunas, 20:30 CET
Poland: Małkowski (Sandomierski) – Piszczek, Głowacki, Glik, Sadlok – Dudka, Murawski, Mierzejewski (Obraniak, Peszko), Błaszczykowski, Grosicki (Obraniak) – Lewandowski
Subscribe

Poland World Cup Blog RSS Feed

Share
Comments are closed