Greece-Poland 0:0. Żewłakow Retires In Good Fashion.
March 30th, 2011 | by: tomasz |

Comments(22)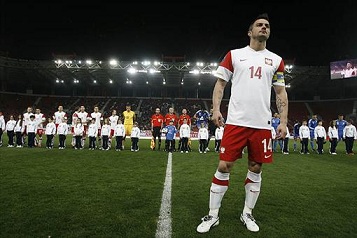 Better pitch brought a better performance from the Biało Czerwoni. Which doesn't mean that we played an extremely good game. I think yesterday we were able to see our true potential: we're not as bas as we saw against Lithuania, but we are also not good enough to defeat teams like demotivated, backup Greece. At the moment, we're in a place that definetely doesn't guarantee us success at the Euros. One big positive from this game is a fine farewell from Michał Żewłakow, who put in a really good, mature performance. Thanks for everything Żewłak, you will be missed.
Greece-Poland 0:0
Poland: Grzegorz Sandomierski – Łukasz Piszczek, Arkadiusz Głowacki, Michał Żewłakow (63' Tomasz Jodłowiec), Maciej Sadlok – Sławomir Peszko (77' Kamil Grosicki), Dariusz Dudka, Adrian Mierzejewski (46' Rafał Murawski), Jakub Błaszczykowski, Ludovic Obraniak (83' Roger) – Robert Lewandowski (83' Michał Kucharczyk)
I was very surprised not to see Rafał Murawski in the starting lineup. So far, Smuda has been playing him every time he had a chance to and even made him the vice captain of his team. This time Muraś had to be benched in order to create a place for Sławomir Peszko. Just as I wrote in the preview, Smuda is not brave, or stupid enough not to play with a more defensive minded player in midfield. I only thought that Peszko would be brought in at the expense of Mierzejewski, not Murawski. We started the game with a very high pressing, this time better organized than usual. It's because there weren't only two or three players taking part in it, but at least five or six Biało Czerwoni rushed forward and put pressure on the Greeks. Our defensive line was also much better organized; they positioned themselves near the halfway line and intercepted a lot of inaccurate Greek passes caused by our pressing. This time the defensive part of our game didn't disappoint, but we still had problems with the offense. Even when we kept possession for a long time, we had no idea what to do with the ball. The players were exchanging positions too slowly, there wasn't enough movement and the one two passes weren't quick enough. We also lacked a player that would take the defenders on, create something unexpected, cause havoc in opponents' defensive line. We lacked an in form Kuba or Ludo. Without being able to take risk and succeed, and without players able to do that, we won't improve our positional attack. Nevertheless, we managed to create a number of goalscoring opportunities in the first half, especially after a quick interception of the ball. Lewandowski, Obraniak and Peszko could have scored, but lacked the neccessary accuracy. The defensive line made only one serious mistake when too many players rushed towards the Greek playmaker and left Mitroglou in the clear. Luckily, Sandomierski kept his position well.
The second half started with our best chance of the game. Sandomierski showed great vision and kicked the ball upfield quickly in the direction of Lewy. Robert cheated the defender, created himself a good position to score and then…opted to round the keeper, which proved to be a very bad decision. As four days before, the finishing skills failed Lewy most; he has to improve his decision-making. The picture of the game didn't change much after the break, it was only a bit slower. We didn't have enough energy to employ the high pressing and our lines didn't play as close to each other as in the first half. The Greeks didn't look much interested in taking the game from us; they seemed satisfied with walking on the pitch and waiting for us to strike first. The thing I didn't like in the second half was Smuda's hesitation to make substitutions earlier. I'm not talking about Żewłakow, who played better with each minute, but about Obraniak and Błaszczykowski, who both had less and less energy the longer the game lasted. I know Smuda treats those players as his leaders, but he can't keep them on the field regardless of their input. Neither Kuba, nor Ludo play 90 minutes week in week out for their clubs and it shows in the national team games. Błaszczykowski didn't have a single good pass or dribble in the last fifteen minutes; a clear sign that he doesn't have the endurance to last ninety minutes of high energy, high pressing football. As for Obraniak, Smuda said that he has to change clubs or win himself a place in Lille's squad in order to return to form. Easier said than done. The nearer it was to the final whistle, the more boring the game was becoming. We had our opportunities from Peszko or Grosicki, but both teams weren't determined enough to fight for a win. All in all, it was an alibi game for both opponents: as if the will to avoid criticism was more important than the will to win.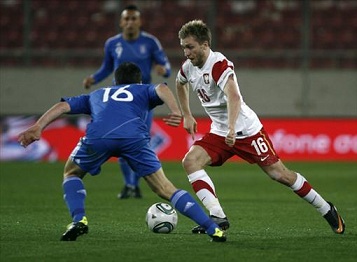 Player ratings (1-10):
Grzegorz Sandomierski 7: a couple of great saves in the first half and overall a very confident performance. Needs to work on his ball distribution.
Łukasz Piszczek 6: much more active in the offence than against Lithuania. He's one of the most dynamic players in the team and definitely the one with the best endurance.
Arkadiusz Głowacki 7: much more confident than against Lithuania. Great positioning and good distribution of the ball, he didn't kick it forward recklessly. Maybe it's because of the pitch, or maybe he felt better with Żewłakow alongside him.
Michał Żewłakow 7: showed that he remains good enough to play for the Biało Czerwoni. Good positioning, but also won a number of one on one confrontations with the Greek wingers. Only one serious mistake.
Maciej Sadlok 6: probably his best game as a left back in the national team. Wasn't afraid to ask for the ball and, surprisingly, took part in a lot of offensive moves in the second half.
Dariusz Dudka 6: he flourished as there was much more space in the middle of the pitch than usual. Didn't lose his head under pressure and was able to pass both to the nearest teammate and send a long pass to the wing.
Adrian Mierzejewski 5: exchanged passes well, made himself available, a lot of movement. The only problem is that his game doesn't result in creating any threat near the opponents' goal.
Ludovic Obraniak 5: made too many bad decisions, especially when running a counter attack. Didn't convert his goalscoring opportunity. Had a good shot from a free kick.
Jakub Błaszczykowski 5: the first to introduce the high pressing in our team. He was everywhere on the pitch, both in offense and defense. It's a shame that he didn't have enough energy then to be more influential in the attack and remain dangerous till the 90th minute.
Sławomir Peszko 5: a proper return to the national team's starting lineup. His inclusion clearly makes the team more dynamic. Didn't improve his poor first touch in the Bundesliga so far.
Robert Lewandowski 5: once again good in the build up play, but disappointing where we need him the most: in front of the rival's goal.
Rafał Murawski 4: didn't influence the game enough, even though the tempo should suit him well. Where is the Murawski who was able to rush into the penalty box or shoot dangerously from long range?
Tomasz Jodłowiec 6: substituted Żewłak and didn't lower the standard of our defensive display.
Kamil Grosicki 5: a lot of movement, taking players on, but lacked the finishing touch. A very good shot in the dying minutes of the game.
Roger Guerreiro 5: maybe he's not a kind of player who should start the games, but none other Polish footballer can come up with such a nice and measured diagonal pass.
Michał Kucharczyk 5: wanted to take part in every action, every move. Showed a great first touch once, but then failed to cross accurately. Huge ambition.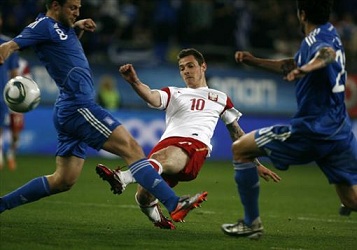 Conclusions:
- Kuba Błaszczykowski and Ludovic Obraniak, two leaders of the team, are in poor shape physically. The lack of significant playing time in their clubs has a detrimental effect on their form. Which means that they need to play more next season if they want to be perfectly prepared for the Euros. Smuda should substitute them earlier if they're not at their best, not torment the players and the fans unnecessarily.
- how about that, Michał Żewłakow is still good enough to play for the Biało Czerwoni. He was far better than Kamil Glik in his last games. Whether you interpret it as a good sign for Żewłak or a bad sign for the remaining defenders is your decision.
- Maciej Sadlok had a good game this time, but I'd refrain from saying that he can now play at left back regularly.
- it may be that Arkadiusz Głowacki performs better when he has another experienced defender to partner him. He's just not a type of a leader who would organize the whole defensive line.
- thanks to a number of good interventions Grzegorz Sandomierski will keep his place in the team for some time now.
- I think we should become used to the fact that Robert Lewandowski won't convert each goalscoring opportunity he's given. He's just a kind of players that needs a couple of chances to score. Whtat's positive is that he creates those chances in each single game.
- if Smuda thinks Rafał Murawski is one of the leaders of the team, he should think again. At the moment, even Dariusz Dudka puts in better performances in the midfield.
Maybe this wasn't a perfect last game for Michał Żewłakow, but he made the most of it and left a very good impression. Thanks for everything. What I find problematic is that once again our opponents are not playing their strongest squad against us (Ivory Coast and Lithuania before). I know that's the nature of friendly games, but we need to get used to some serious football so as not to be surprised in the Euros opening game. Moreover, we should play the majority of the games in Poland so that the players get a taste of the atmosphere they will encounter in 2012. This is what we can take from the last two friendlies. As for the quality of the Biało Czerwoni team, they didn't bring any improvement.
Highlights:
Farewell to Żewłak
Subscribe

Poland World Cup Blog RSS Feed

Share
Comments

I agree that Kuba and Ludo should not be kept on the field and subbed once their "batteries" begin to die..
I also feel that Grosicki, Kucharczyk and Roger could have really accomplished something out there and earned a higher rating had they just been given more time on the pitch, like a 70th minute introduction.

which players are you complaining that were missing from the Greek squad? Karagounis, Katsouranis, Mitroglu, Salgipidis, etc. all played… they may not have been fully motivated but that's the way some friendlies are.
Posted from
United States

So Ukraine will be picking a new coach for their team by April 21st. Just goes to show its not too late for Poland to get rid of Smuda either!
Posted from
Canada

@Tomasz always a great read Tomasz.. I love to contribute to your blog. Keep up the great work.
I wrote a small piece on our NT and what needs to be changed. Have a read here hope to hear some of your comments too!!!
http://www.polandsoccerblog.com/2011/03/three-steps-to-better-polish-national.html

Malta should have beaten greece there is not much substance there not since 2004
Posted from
United States

@Hieronim
All three players that started the qualifier against Malta (much more important game for Greece) started the game against us as well. The Greek coach used the game to test his backups and we can't have any complaints about it.

@ tomasz
are you saying only three players started both games or what? I'm confused by what you meant; I'm not sure if you were agreeing or disagreeing… But in any case, if you look at the Greek call up list and say that he fielded a weaker squad against us than Malta, I cannot really agree. None of the players that didn't play are stars. Are you saying Santos used both the Malta and Poland games to test players? I don't feel talent wise that there is the gulf of quality people are complaining about within the Greek team.
Posted from
United States

I'm saying that Santos used the players he considers starters against Malta and the ones he considers backups against us. On the other hand, you're right in saying that there are no huge stars in the Greek squad and that there is no huge disproportion in quality between both lineups.

Patryk Malecki and the evil Smuda!!!!
Patryk Malecki – Answers questions about Krakow and the National Team
http://www.polandsoccerblog.com/2011/03/patryk-malecki-answers-questions-about.html

We got it bigcmos. Appreciate the translation and story, but the "evil" Smuda, is outrageous. Gosh, seems like Smuda in a casual encounter let Malecki know he's interested in him. That doesn't sound evil to me. Even the defensive comment could have been because the he wants another good athlete to be versatile on the field at a time he thought the attacking portion of his team was better covered in depth. I think expecting these guys to be versatile sure isn't working, so he should reconsider his trails with players out of their comfort zone. Player selection certainly appears to be issue, but if we had some 'killer' depth and quality throughout for the white and red, then even his plan would work. Malecki's response was fair, and confident – I like that he realizes his responsibility to the white stars.
Posted from
United States

@paeadowski – evil is a bit harsh….yes.,,I am a bit bias with Smuda…but the bottom line is that I have lost total faith in him.
Smuda is just an asshole he knows Malecki is playing well but still tells the media 1 or 2 games is not good enough to test him, instead he brings in peszko off an injury and obraniak who is not in form! Makes no sense to me, it seems these friendlies are not even being used properly. How about Jelen, was injured Smuda didnt care enough to call up another striker? What the fuck?

In other news Ebi Smolarek is back with the first team and scored for Polonia! Team mate Adrian Mierzejewski also got on the score sheet. They are beating Korona 3-1 70th min.

Ebi's goal came from a shitty penalty shot. Easily savable if goalie picked the correct direction.

Just my opinion on the recent debate on this forum.
I believe Smuda should go, and personally i think there is still time to get a new coach and install his system into the squad. Smuda would be a good coach for Spain or France, but with the players we have at our disposal, this fast one-two passing shit isnt really working, ya once in awhile there are moments where even im like wow now there is some potential, the PZPN wont fire him for many reasons mostly cuz there a bunch of lost cluless cheap motherfuckers. Ill give Smuda credit for trying to change the style of the team, instead of the long balls/passes he wanted to try something new. But he shouldve realized awhile ago its not really working and shouldve tried something else.
It seems that whenever Poland is playing a considered "weaker" opponent like Lithuania we take them as a joke and that we will easily come out victorious, but what do you know we loose almost every time, and the boys never learn, from loosing to Korea in the 2002 world cup, to loosing to ecuador in the 2006 world cup and austria in euro 2008 and now lithuania……only after they realizr oh shit now thats embarrasing, they actually start trying to avoid embarrasment.
It could be argued that we played on a shit pitch in lithuania and we were missing our 3 starting keepers, we didnt have Matuszczyk, Jelen and Boenisch but if our boys could tie greece with those players, we shouldve easily beaten lithuania, i think our next game is vs France……now that should be interesting.

More good news coming from Polish soccer. A well known Legia "fan" goes out onto the field after a game & hits a player in the face then gets a red carpet escort out by security.
They do not arrest the guy, just let him walk out of the stadium.
The EK will always be the crap that it is because of things like this that they allow to happen.
http://www.sport.pl/pilka/1,65039,9370747,Komentarz__Legio__kiedy_i_ja_dostane_z_liscia_.html

So Arsenal is interested in Boruc now. Imagine this possible scenario, with Borus playing, and Szczesny warming the bench, while Fabianski watches from the stands…will Smuda still ignore Boruc and choose Szczesny who warms the bench?

Anyone who watched the Dortmund game on Sat I'm sure saw solid confirmation of Lewy's problem. Three great chances blown. It was embarrasing. He needs deep training, mentally and physically, before we can count on him for the NT. Another observation was the Coach of Dortmund..even when his players missed a shot, he still clapped for them and stayed positive and CALM. Compare this to the hysterics and grimaces of Smuda we've seen. The first demeanor gets results and the latter only gets losses and the disrespect of players.
Replace Smuda!

I agree with you about disapproving of Smuda's sideline demeanor. It really is ridiculous, he's always acting exasperated or complaining to the other coaches or bench players. He just comes off looking like a clown (which I am thinking more and more that he is) and it certainly doesn't help anyone. Honestly, I do not think that a coaching change would be that detrimental to the team, as I think Smuda is more detrimental to the team than anyone else aside from his overhead PZPN officials. We need a "player's coach", like Klopp at Dortmund, who demands a lot of his players but respects them and gives them their best chances to succeed.
Posted from
United States

also, is Arek Piech getting any attention from the NT staff? He has been bagging plenty of goals for Ruch lately, he's consistently putting them in this term.
Posted from
United States

It's understood, pretty much everyone wants Smuda gone. I don't think that's going to happen. Either way, no one here has any power over that decision. Can we stop talking about it and talk about something else? Smuda is not the only thing wrong with Polish Football. And there are some bright spots to look at. It's all about perspective.

Well, we tried boycotting the PZPN and that didn't do too much..it's kind of like sinking a lucky missle into the Death-Star. At least a Coaching change (quickly) could potentially rescue a team that is not going to last very long at Euro 2012 as is. We can reapproach the PZPN issue later.. We can and must stay positive about anything we can including players who are improving and other bright spots, but turning away from a glaring and obvious problem is not the solution. If it's ever going to be talked about, I would think it needs to be right now.

Talking only makes sense if you can do something about it. The fact is that Smuda is the coach. Switching him out doesn't guarantee success. He's not the only problem, even if you think he's the major problem. This isn't a Brazilian team that should challenge for every cup but just falls short. This is Poland. We are what we are, and right now that's not winners.
Comments are closed